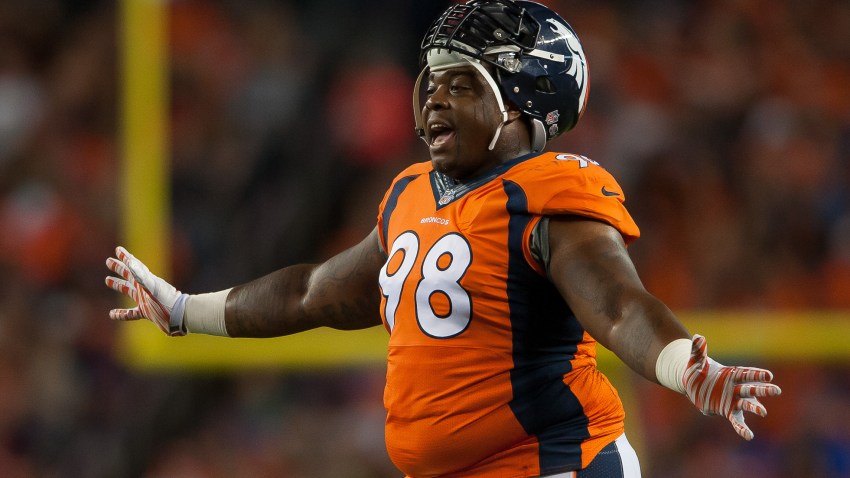 The Chicago Bears missed out on one free agent defensive tackle as N'Damukong Suh signed with the Miami Dolphins, but it appears as though they are in hot pursuit of another valued commodity as the market heats up.
That player is Denver Broncos defensive tackle Terrance Knighton, who appears set to jump into the free agent market this week. Knighton, who has racked up 142 tackles and 74 assisted tackles in his six-year NFL career, has played for the past two seasons as a nose tackle for the Denver Broncos. With the Bears looking to make the switch to a 3-4 defense in the 2015 season, he would be an ideal anchor for the middle of what is sure to be a different looking line.
The problem for the Bears in their pursuit of Knighton is that they will not be alone in looking to acquire "Pot Roast's" services. According to several reports, Washington, the Oakland Raiders and the Indianapolis Colts are all looking at making a run at the veteran run stuffer, and that list is certainly one that would give the Bears some serious competition.
The Bears do have a bit of an edge in terms of knowing Knighton, as Head Coach John Fox has worked with him for the past two seasons in Denver, but the Raiders also have a Denver-connection with the 28-year old, as their new head coach Jack del Rio was Knighton's defensive coordinator with the Broncos.
With a ton of needs to fill and limited salary cap resources to work with, the Bears will likely make a strong play at Knighton, but they could be outbid by other teams that are lining up to take a run at him. Ryan Pace will have to be creative with the money in the deal if the team is serious about grabbing Knighton off the market. But if he can pull it off, it would be a great start to the rebuilding process that this team has embarked on.