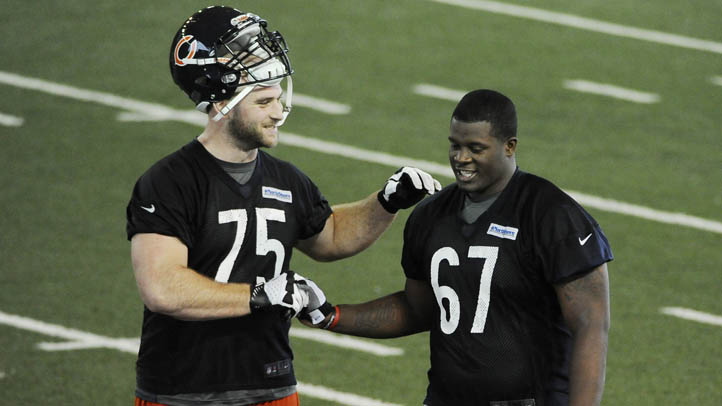 It's been quite a while since the Chicago Bears had an offensive line that they could be proud of, and on Tuesday afternoon there was yet more validation of what that group had been able to accomplish this year.
Kyle Long, who was the Bears' starting right guard for all 16 games this season, was named to the Professional Football Writers' Association's All-Rookie team. Eddie Lacy, running back for the Green Bay Packers, won the Rookie of the Year honors from the organization, with WR Keenan Allen of the San Diego Chargers and LB Kiko Alonso of the Buffalo Bills taking down Offensive and Defensive Rookie of the Year honors, respectively.
After being drafted 20th overall by the Bears in the 2013 NFL Draft, many fans and pundits thought that the Bears had made a huge reach by going for Kyle Long, an offensive tackle out of the University of Oregon. Yes, his size and speed were appealing, but his relative lack of college experience, as well as his age, were huge marks against him as he came into the pros.
Needless to say, Long smashed those expectations and them some in his first season with the Bears. Long quickly became one of the most reliable blockers on the line, as they helped the Bears' offense to achieve new heights. Matt Forte benefitted greatly from guys like Long and Matt Slauson blocking for him, racking up over 1300 yards on the ground this season, and both Jay Cutler and Josh McCown enjoyed more time in the pocket thanks to the abilities of Long and fellow rookie Jordan Mills as they held down the right side of the line.
Next season, there is talk that Long may end up switching positions if the need arises, but with Slauson and Jermon Bushrod locked up to long-term contracts, Long may very well become a mainstay at the right guard position.