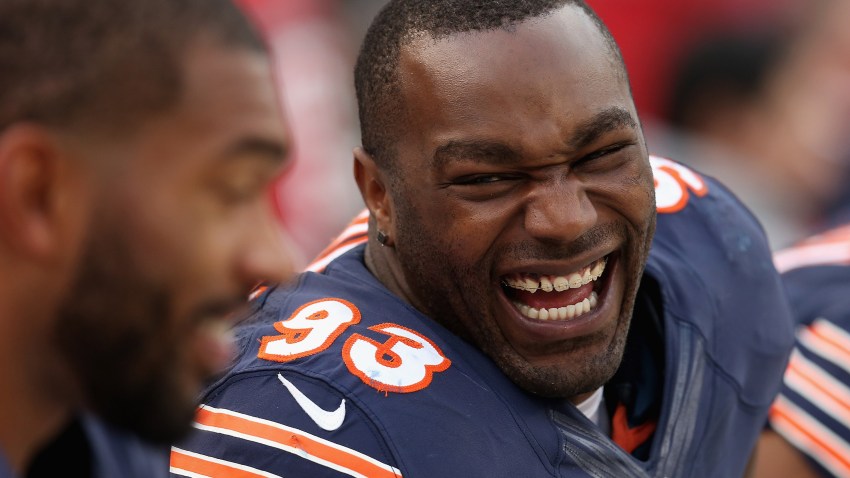 The Chicago Bears have until Tuesday to trim down their roster to 75 players, but they got started a bit early on Saturday by releasing a couple of big names back into the NFL's free agency pool.
First and foremost among that group was defensive tackle Nate Collins, who was trying to make the Bears' roster for the third time. In five games last season, Collins had 14 tackles and a sack, but with Will Sutton and Ego Ferguson both virtual locks to make the roster, the Bears decided to move in a different direction.
Collins wasn't the only player on the defense to be cut loose on Saturday, as safety Adrian Wilson was also reportedly cut. With Chris Conte's return from shoulder surgery, and with Ryan Mundy and Danny McCray getting a lot of reps together as a starting combination, it didn't appear that Wilson was making any progress toward a starting job. He also wasn't going to figure into Joe Decamillis' special teams plans, so keeping him as a back-up wasn't a viable option either.
The Bears also made a decision in their battle for the back-up running back job, as Michael Ford was released. Ford was a sensation in training camp last season, but with Ka'Deem Carey drafted and Shaun Draughn looking more and more likely to make the roster, Ford was an expendable piece.
According to the Chicago Tribune's Brad Biggs, the Bears made several other cuts, including wide receiver Kofi Hughes, cornerback Peyton Thompson, and cornerback Derricus Purdy.