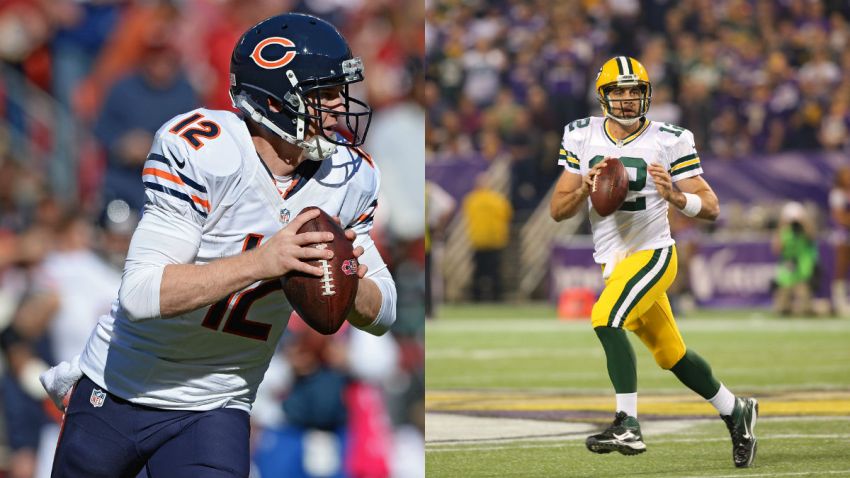 The Chicago Bears take on the Green Bay Packers at Lambeau Field on Monday night, and Grizzy Detail has your five keys to what would be a crucial victory in the NFC North race.
Let Josh McCown Run the Full Offense
Arguably the biggest story going into the game has been the injury to Jay Cutler and whether or not back-up quarterback Josh McCown will be able to shoulder the responsibility that comes with running the offense.
The folks up at Halas Hall are plenty optimistic that McCown will be able to do the job, continuing the success he had against the Washington Redskins in Week 7, but there have been just as many (if not more) people in the media and the blogosphere convinced the world is about to crash down on his head. After all, the Packers have had a full week to prepare for McCown, a luxury that the Redskins did not have, so it would stand to reason that he won't be able to throw them many wrinkles that they won't anticipate.
What's crucial for Marc Trestman and company to do in this game is to let McCown run the offense as designed. Trestman's offense thrives on getting rid of the ball quickly and on spreading it around to various areas, and while Cutler usually fixates on one receiver, McCown seems content to get everybody involved. That is especially beneficial for the Bears, since they have so many quality options to get the ball to all over their lineup, so it's going to be important for Trestman not to call a vanilla scheme that takes the rhythm out of McCown's performance.
No, McCown probably can't throw the deep back-shoulder ball that Cutler has shown in several instances this season, but in terms of finding guys open in the flat or along the sidelines, McCown can make those throws….if Trestman will let him.
Get Forte Involved Early
The Packers have one of the best rushing defenses in the NFL, and with a Bears offensive line that doesn't exactly sparkle in run protection (Jordan Mills is especially weak in this area), it would seem on paper that the Bears would have to thrive through the air if they were going to score many points against Green Bay.
The simple fact of the matter though is that the Bears HAVE to be able to run the ball against the Packers if they have any chance of winning. Last week against the Minnesota Vikings, the Packers held onto the ball for over 40 minutes, and against a defense like the Bears' defense, that is a recipe for disaster for Chicago. If they are on the field that much against Aaron Rodgers and company, then all hope will be lost for what would be a miraculous win.
To that effect, the Bears have to be able to not only hand Forte the ball, but also to clear lanes for him to run through. One of their better blocking techniques is pulling Matt Slauson across the formation to block up the middle with Kyle Long, a tactic that paid dividends on a 50 yard touchdown run for Forte against the Redskins. Jermon Bushrod also does a good job with Slauson on the left side of the line, so if running plays are going to be dialed up, then they will likely have to go through the middle or left sides of the formation.
At any rate, a passing game isn't going to milk the clock enough for the Bears to succeed, so if they can get good performances out of the guys that they know can block on running downs, then Forte might just have a chance to turn the tables in the "time of possession" battle, and to give his team a great chance to win.
Get Pressure from the Edges
All year long, pundits and fans alike have been decrying the Bears' total lack of front four pressure, and with good reason. The middle of the line is performing decently, but against the pass, the Bears are woefully inadequate, as Julius Peppers and Shea McClellin both seem to be allergic to getting to the quarterback this season.
Against the Packers though, the duo will have one of their best chances of the season to do some damage. Green Bay's offensive line definitely leaves something to be desired, as they have allowed 17 sacks in seven games this season, and the ends have got to be able to take advantage of that matchup.
Getting pressure on Rodgers is crucial for all of the same reasons that it would be important against any other quarterback, but not many guys can move around and keep passing plays alive like Rodgers can. If McClellin and Peppers can beat David Bakhtiari and Don Barclay off the edges, then they can limit the amount of time Rodgers has to make decisions, and with his lightning quick release, that disruption could prove to be crucial.
Linebackers Must Remain Disciplined Against Deceptive Packers' Offense
With the Bears losing both DJ Williams and Lance Briggs to injuries, the team's linebacking corps is significantly weaker now than it has been in quite some time. Rookies Jon Bostic and Khaseem Greene will both start on Monday night, along with veteran James Anderson, and while Anderson will handle the responsibilities for getting the troops lined up correctly, it will be crucial for both Bostic and Greene to get into their proper spots before every snap.
The reasons for that are wide-ranging, from Rodgers' ability to go over the top with quick throws that linebackers barely have time to see coming to Eddie Lacy's ability to get through the defensive line and into the secondary. Bostic especially has shown a vulnerability to the run, so being able to stay in his assigned gap and keep Lacy within eyeshot is going to be critical if the Bears are going to shut down Rodgers' newest offensive weapon.
The Packers also use a ton of play-action in their game plan, and that is always tough on linebackers, but will be especially so for a couple of rookies with limited NFL experience. Rodgers is so deceptive on the fake hand-offs, and with so much attention being paid to Lacy, it only amplifies that facet of his game.
If Bostic and Greene keep biting on those fakes, it could be a long night for the Bears, so it will be critical for them to remain disciplined and to not buy what the Packers are selling on offense.
Special Teams Must Step Up
There is an old saying that the only things that are guaranteed in life are "death and taxes," but for many years, one of those guarantees may as well have been "good special teams play from the Bears."
Unfortunately, the departure of Dave Toub has had some big effects on the Bears' special teams unit this season, giving up a ton of big plays and not making many big plays in return. Devin Hester did return a touchdown in their last game against the Redskins, and punter Adam Podlesh appears to have finally put his early season struggles behind him, but even so, just about every week somebody in that phase of the game will make a mistake, and that's something the Bears simply cannot afford to do in this game.
Podlesh needs to step up with some big punts to pin the Packers deep in their territory. Hester needs to be able to take advantage of any kicks that come his way. Robbie Gould has to be on top of his game after missing his first field goal attempt of the year last week. Eric Weems has to be at his antagonizing best. All of these guys are going to have to be at their best in order to keep the Packers at bay, and that is a very tall order for a unit that hasn't put together a full effort in a game this season.