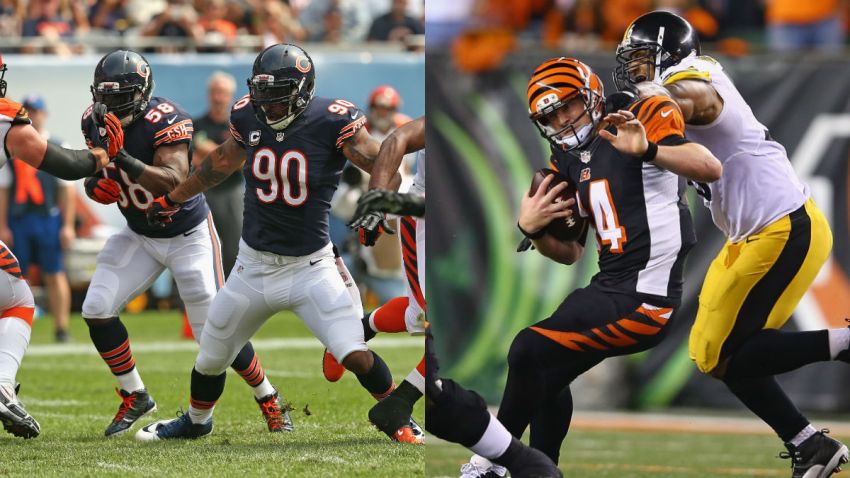 The Bears face 3-4 defenses a few times a year, so the offense has worked sparingly against it before this week's match-up with the Steelers.
Rookie offensive linemen Jordan Mills and Kyle Long will get their first taste Sunday nigh -- first taste since college.
"You're going to see more thickness," said Mills who used to watch tapes of Nick Saban's Alabama 3-4 defense while in college at Louisiana Tech. "As coach said, a lot of girth on the (Steelers') defensive line."
Long went up against Oregon's 3-4 defense in practice and has a better feel of what to expect, especially with Steelers veterans on the line.
"Lots of savvy vets, they know the ins and outs of this defense," Long said while acknowledging the genius of Pittsburgh's defensive coordinator, Dick LeBeau. "Tremendous defensive coordinator and somebody who's been in the league a long time, so I'm sure we're going to see some tricky stuff."
Bears offensive coordinator Aaron Kromer explained LeBeau's defense this way.
"They play very stout 2 gap defense on first & 2nd down with a combination of some pressures" Kromer said. "But then on 3rd down Dick LeBeau has been known for years to have tough nickel blitzes, show you one way, blitz the other way, roll a guy from the line of scrimmage down to a deep half to cover."
Communication will be key Sunday night for the Bears offensive line, which has given up just one sack through two games this year.
"They all use their hands pretty well," Bears tackle Jermon Bushrod observed. "It's going to be a physical game, I'm probably going to feel pretty bad come Monday."