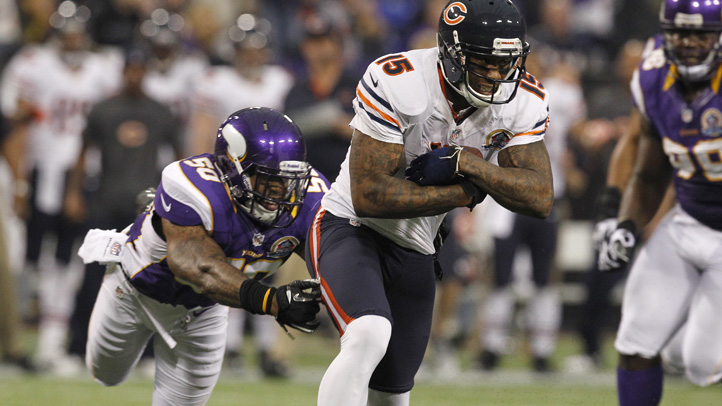 The Bears offense went into Sunday's rematch game against the Minnesota Vikings with one task -- carry the team. The 438 total yards should have been enough, but it wasn't and frustration with the Bears offense continues to build.

"We all let the team down" said Bears wide receiver Brandon Marshall after the game. "I dropped that 3rd down, I have to make that play."

Marshall accepted the blame for a dropped third down catch, but he converted three of eight third downs that came his way including a fourth quarter touchdown. Additionally, his ten catches for 160 yards receiving and a touchdown set a new Bears franchise record with 101 catches this season. But it wasn't even enough to target Marshall 19 times. Other players had to step up too.

The reality was all of the receivers dropped critical passes in this game.

Alshon Jeffery returned from his knee scope for 57 yards and a touchdown. But he also slipped on the Bears first series, resulting in an interception setting up Adrian Peterson's second touchdown, and dropped a potential touchdown in the third quarter on third and long.

As for Devin Hester his 39 yards mostly lining up in the slot on 5 receptions was forgotten after a bobbled and dropped third down attempt in the fourth quarter with the Bears on the Vikings 23 yard line. After the loss, Hester was visibly upset at the drop and said the receivers were ready to provide a spark, but "I was unable to do it today."

Marshall understands the frustration with the Bears offense, but he sees improvement and accepts the challenge.

"Our backs are against the wall now," Marshall admitted. "We have to win out...we have the guys in this locker room that can get it done and we have to get it done."