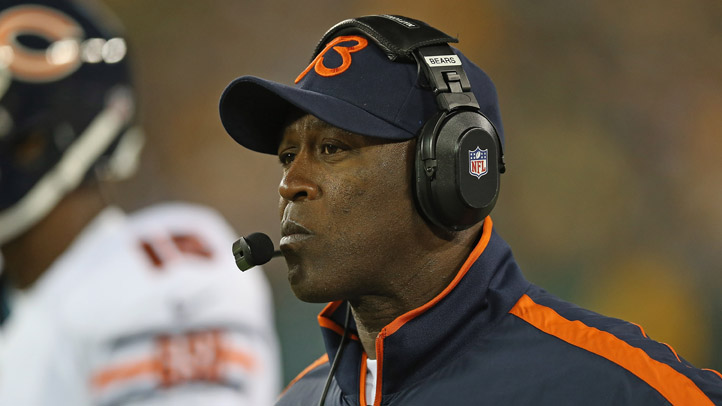 Lovie Smith appreciates history. He wears the old-school Bears cap on the sidelines as sanctioned by the NFL. He keeps an old George Halas sport coat hanging in his office closet. And he knows the Lions are a dangerous team.
The Bears have won seven of their last eight meetings, but Smith remembers clearly last year's Monday Night with the Lions, in which Detroit won and broke a streak of six straight Bears wins.
"It's not like I have to bring out the George Halas pep talk to get them ready to play Detroit," Smith said of the Bears Monday Night matchup at Soldier Field.
Last year at this time, the Lions were making their first appearance on MNF in ten years as the up & coming team, while critics wondered if the Bears defense was really as bad as they had been playing. Fast forward to this year and the question is "What happened to the Lions?" who are 2-3 and the Bears defense is ranked 3rd in the NFL, 1st against the run, tied for 3rd in turnover ratio with a plus 9.

While there is more at stake with this year's matchup, the Bears players acknowledge a rivalry heating up.
"Previously they weren't good you know?" Bears DJ Moore acknowledged, "its not really a rivalry until you really get good. so i think they're a better team now so it makes more of a rivalry.

Moore was ejected from last year's week ten meeting with Detroit after Matthew Stafford threw his third interception and Moore tackled Stafford on the return. Stafford threw Moore's helmet off and a melee ensued.

"I don't think it's bad blood" Moore said, rather explaining it was two teams in the heat of competition.

So now the Bears feel love for the Lions? "Yeah, love!" Moore deadpanned, adding, " hugs & kisses & birthday wishes".

And a Monday Night rematch in the Octagon of Soldier Field.