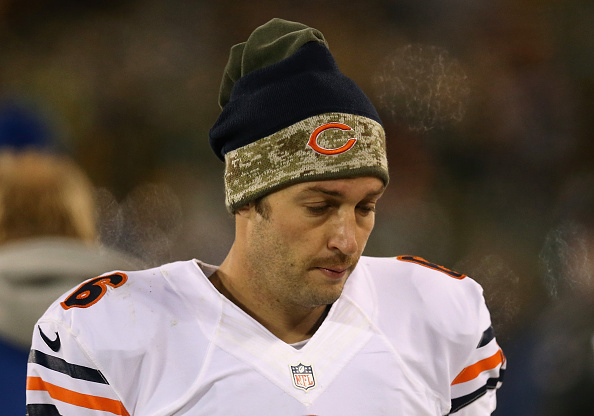 The Chicago Bears have been the target of plenty of comedy following their embarrassing loss to the Green Bay Packers Sunday, but apparently some of that satire fell on deaf ears as some Bears fans weren't in on the joke.
The prime example of this phenomenon came when the satirical publication "The Onion" published an article in which Cutler purportedly blames punter Pat O'Donnell for the team's loss. Here is what the phony Cutler had to say:
"Jay Cutler told reporters Tuesday that he would be the first person to admit the team is in dire need of a new punter. "It's certainly not an easy thing to say, but at the end of the day, someone has to step up and accept that mistakes were made by our punter, Pat O'Donnell," said Cutler…..Cutler went on to acknowledge that Bears long snapper Jeremy Cain will also need to step up his performance significantly before next week's game against the Vikings if the team is to have any chance of turning its season around."
While the website is known as arguably one of the best satirical news site, Bears fans on Twitter reacted with indignation at the thought that Cutler would pin blame on another player:
Cutler says "I'll be the first to admit... We need a new punter" Really jay? Is that what the Bears need???? — Mirra (@mara_ann) November 12, 2014
Someone inform Jay Cutler that they wouldn't need to use the punter if he could perform at his own position as quarterback @ChicagoBears — Steven Mirizzi (@SJM_Rizz) November 12, 2014
Hey @ChicagoBears whaddya say let's throw Cutler away! "I'll be the first to admit we need a new qb! NOT a new punter!" — Amber McGee (@ajmcgee88) November 12, 2014
Jay Cutler blamed his punter. I didn't expect anything less — Tyler Serino (@TySerino) November 12, 2014
After reading these tweets, one would have to wonder if the outrage would be the same if The Onion published an article about Bears fans needing emotional therapy after two straight blowout losses. Wait, they already did.