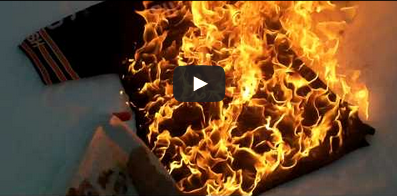 The Chicago Bears have given up 50 or more points in consecutive games, but despite the defensive deficiencies, there is still plenty of blame to go around for the offense as well.
Quarterback Jay Cutler turned the ball over three times in Sunday's loss to the Green Bay Packers, and his career record against the team now stands at 1-11. That includes the 2010 NFC Championship game of course, where Cutler sprained his MCL and left the contest, and so with all of that losing and futility fueling them, some Bears fans have had enough.
And they've decided to burn Cutler's jersey.
Here's a sampling of the anger:
Just found a ripped, half-burnt Jay Cutler jersey down the block. Needless to say, Chicago is not happy today. pic.twitter.com/HrisUEi19b — Dan Carson (@Dr_Carson_) November 10, 2014
Whether these fans want to admit it or not, they're stuck with Cutler regardless of their grand gestures of anger. Cutting Cutler ahead of next season would cost the Bears nearly $20 million worth of dead salary cap space, and he's also guaranteed $17 million for the 2016 season. After that all bets are off, but the ultimate point is that he's not going anywhere, and the money fans spent on the jerseys they are burning helped to fund that salary.
Besides, we've all seen how the Bears react to Cutler jersey burnings in the past: