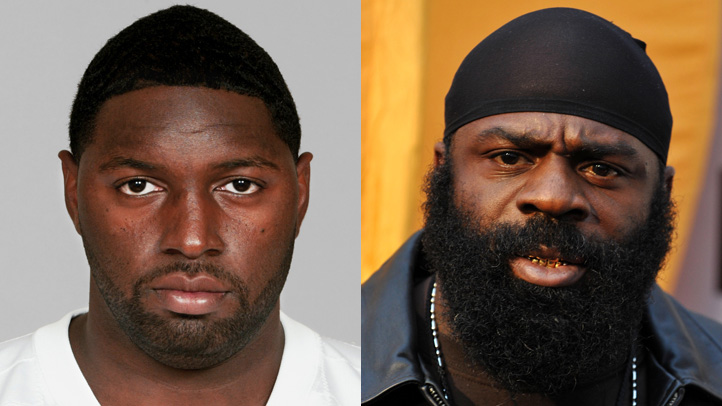 Watch Bears defensive tackle Jeremiah Ratliff in pregame warmups coaching up young Bears players, but don't get too close. Ratliff carries a perpetual scowl with the look of MMA fighter Kimbo Slice to match.
"If he says he's going to hit you, he will" tight end Martellus Bennett said.
Bennett knows Ratliff as teammates in Dallas too. Still Ratliff scoffs at the reputation.
"I'm not a mean guy. When I'm on the field and I have a job to do, I can't really afford to be nice," Ratliff explained.
Ratliff says that since he is a smaller defensive tackle he has to carry that chip on his shoulder. Off the field he insists he's "pretty chill."
Cowboys owner Jerry Jones may scoff at that. According to reports in Dallas, the team owner had more than one run-in with Ratliff who was paid an $18 million dollar signing bonus for a contract set to begin this season. Yet Ratliff never played a down in Dallas. He was released in October and joined the Bears in November.
Last week, Ratliff played 23 snaps -- his first in more than a year -- and will get more Monday night against his former team at Soldier Field.
"To me it's just another game," Ratliff said Thursday after practice. "As they say, they're moving on, so have I, and that's the end of it."
Upon leaving Dallas, Ratliff also left behind the name "Jay," preferring to be called "Jeremiah" instead.
He can dismiss Dallas all he wants, but when told Bears special teams coordinator Joe DeCamillis compared his experience in a Cowboys uniform to being "Hollywood," and Chicago as "football" Ratliff didn't hesitate to finish the sentence.
"Yes! First-class organization, just to put it bluntly," Ratliff laughed. "It's not a shot, and if they take it like that, so be it. Here, it's all about football, you can really focus on your craft."
And the former Pro Bowler is focused, whether he admits it or not, on Monday night.