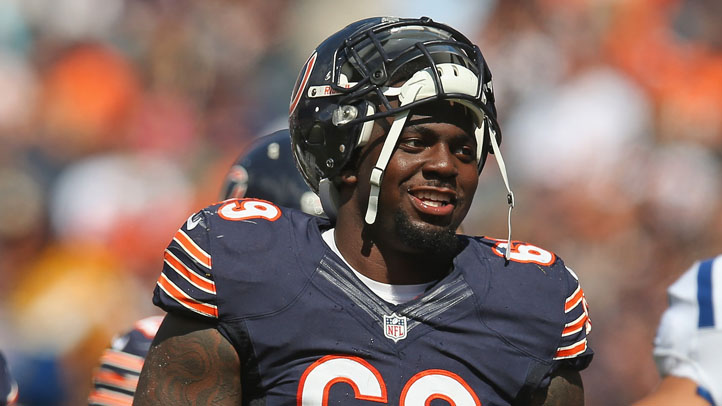 While the Chicago Bears are facing a potentially big game against the Philadelphia Eagles on Sunday night, one of their players is making headlines for all the wrong reasons off the field.
Defensive tackle Henry Melton, who was placed on injured reserve when he tore his ACL earlier this season, was arrested early Sunday morning at a sports bar in Grapevine, Texas, a suburb of Dallas.
"Melton became belligerent with some of the staff members of the restaurant," Sgt. Robert Eberling of the Grapevine Police Department told the Chicago Tribune. "He was asked to leave. When he was in the process of being escorted from the restaurant, he struck one of the staff members. He was restrained at that point."
Eberling confirmed that Melton was arrested at approximately 1:45am on charges of assault and public intoxication following an incident involving staff members at The Chill Restaurant & Bar in Grapevine. According to NBC Dallas-Fort Worth, Melton posted bond at around 11 a.m. Sunday, and no one was hospitalized or sustained injuries during the alleged assault.
Melton graduated from Grapevine High School and attended the University of Texas before being drafted by the Bears in the fourth round of the 2009 NFL Draft.
The Bears released a statement early Sunday afternoon:
"We are aware of the reports regarding Henry Melton. We are currently gathering information to learn more about the circumstances surrounding the arrest."
We will have more information on Melton's arrest as it becomes available.