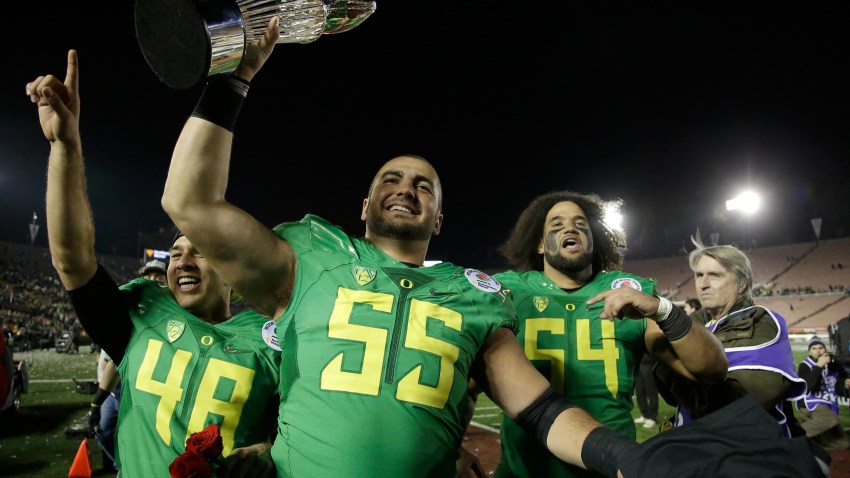 The Chicago Bears may wear helmets on the field, but off the field their headwear can still generate buzz.
Whether it's Jay Cutler's Vanderbilt hat or Kyle Long's affinity for wearing a Cubs hat after practice, the team isn't afraid to show it's allegiances off the field either, but in the case of rookie center Hroniss Grasu, his choice represents his favorite hockey team: the Los Angeles Kings.
"I am (a Kings fan)," he said after practice on Monday. "We had a rough year last year. I was pretty disappointed, but we've been lucky and blessed with the last few years we had."
The choice of the Kings as a favorite team isn't a shock for Grasu, who was born in Los Angeles and played high school football in the area. Despite his rooting interest though, he did have laudatory words for the Chicago Blackhawks.
"You guys have had a lot of success as well," he said of the Blackhawks' run of three Stanley Cup championships in six seasons. "I'm hoping we can fix things up and get into the playoffs to play you guys."
When he was asked who his favorite Kings player was, the rookie didn't hesitate.
"Jonathan Quick," he said. "It's absolutely Jonathan Quick."
Perhaps playing in Chicago will help him develop an affinity for Corey Crawford and the Blackhawks, but even if that's a longshot, there's still the possibility of him making a postseason wager with Long, who bested his brother in a Blues/Blackhawks bet in the 2014 playoffs.