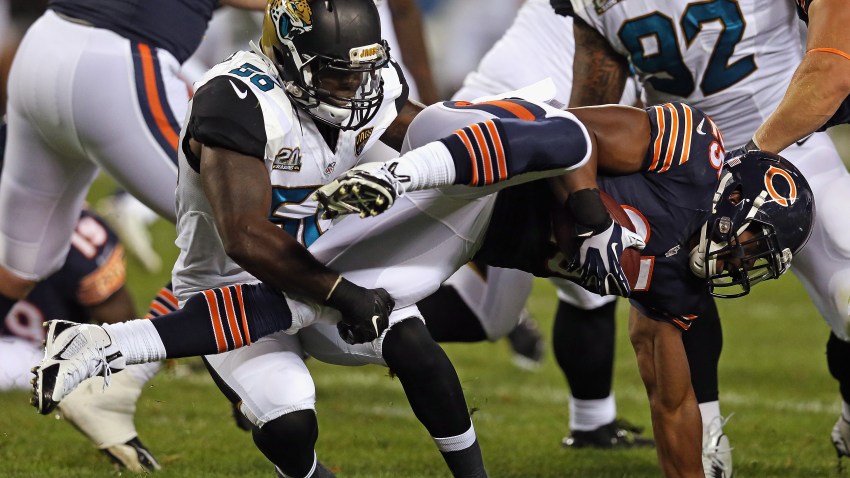 The Chicago Bears won a 20-19 decision over the Jacksonville Jaguars on Thursday night at Soldier Field, but perhaps more important than the result of the game, the team was able to get more film on the players who are competing for a variety of spots on the 53-man roster.
Here's our evaluation of where each of these depth chart battles stand after the team's second preseason game.
Back-Up Quarterback: Jimmy Clausen
We still have Clausen ahead of Jordan Palmer, but the latter had the better game on Thursday night. Both players showed good zip on the ball at times, and Palmer looked much more composed in the pocket in this game. It will be interesting to see which player gets the second team reps next week, as it will likely be a good indicator of where the team is leaning in the matchup.
Jay Cutler may not have a big say in who ends up being his back-up, but he has been impressed with both players during the process.
"These guys are playing well, battling," he said after the game. "It's probably going to come down to that last preseason game. They both practice well. They're both overcoming adversity in practice. They're preparing really hard. I'm glad I don't have to make that decision."
Back-Up Running Back: Ka'Deem Carey
Shaun Draughn had a solid outing against the Jaguars, rushing for 33 yards on just three carries, but Carey showed some of the skills that the Bears are going to be looking for in a back-up running back. He had great acceleration out of the backfield, found holes in the line well on a couple of plays, and showed great strength in bulldozing his way into the end zone for his fourth quarter touchdown.
We're giving Carey the edge more because of how we perceive that the Bears feel about him, but Draughn has a chance of making us rethink this position with how he fares in practice and in the remaining preseason games. At any rate, the running back has the right attitude about where he's at with the team.
"It's not my job to lose because I don't have it," Draughn said when asked if he felt he had secured a spot on the roster. "I stack practices and I try to stack the games in the same way. I'm going to keep doing what I'm doing, understand my playbook, and know where to be."
Third Wide Receiver: Josh Morgan
Eric Weems was given the first opportunity to win this role, but between his struggles and Chris Williams' injury, we would give the edge to Morgan at this point. His size is a definite plus, and his veteran status and solid approach to the game will make him a valuable asset even after Marquess Wilson returns to the team.
Third Tight End: Matthew Mulligan
The Bears have established tight ends in Martellus Bennett and Dante Rosario, but the battle for the third tight end spot on the roster may have gotten a lot more complicated Thursday with Zach Miller's injury. The team seems to be approaching it as if it may be a serious one, and if that's the case, then a talented blocker like Mulligan should be able to stick on the roster.
Fourth Defensive End: Trevor Scott
Jared Allen, Willie Young, and Lamarr Houston already have defensive end spots locked up for the team, but the real question right now is whether or not David Bass is necessarily a lock to make the roster. Scott has looked tremendous in both preseason games so far, and his speed could be a great asset in nickel packages should Young go down with an injury.
Strong Side Linebacker: Shea McClellin
Christian Jones definitely will have something to say about this, but after an improved performance on Thursday night, McClellin certainly gave some hope to the Bears' defensive coaches about his potential at the position. He still has plenty of work to do in terms of diagnosing running plays and shedding blocks, but he looked better at both in this one, and if he can keep that up, then he will likely be the starter in Week 1 against Buffalo.
Safety: Ryan Mundy and Adrian Wilson
The Bears have been keeping Mundy together with Danny McCray and Wilson with Brock Vereen in the first two preseason games, but as of right now the team would be smart to put Mundy and Wilson together. Both players have had impressive camps, and even though both are better suited for the strong safety position, Mundy could slide over to free if the team needs him to.
The wild card in this battle is the health of Chris Conte. If he's able to come in and play well against the Seattle Seahawks and Cleveland Browns in the final two preseason games, then he could end up snatching up the free safety role, leaving Mundy and Wilson battling for the strong side job.
Punter: Pat O'Donnell
O'Donnell had a nice night at the office on Thursday, with several booming kicks and an average of nearly 50 yards per punt. He also pinned the Jaguars inside of the 20-yard line twice, while Tress Way failed to do so in all three of his attempts.