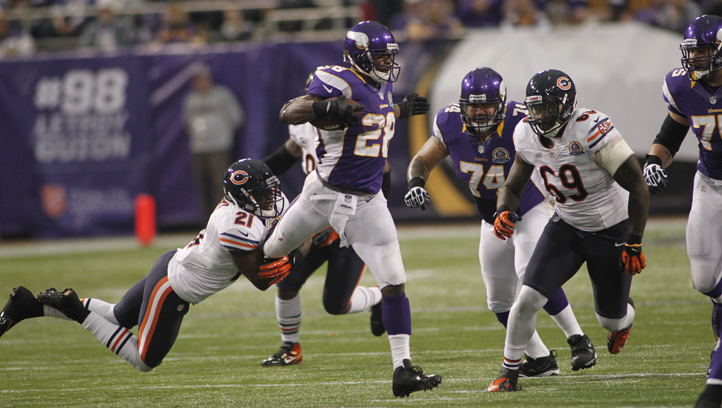 With Brian Urlacher relegated to the role of "coach," and Tim Jennings still nursing an injured shoulder, the Bears defense was on their heels to stop one of the NFL's top running backs in Adrian Peterson.

"He came out running fast, playing hard" said cornerback Kelvin Hayden starting in place of Jennings. "It looks like we weren't ready for it, but we were, we were."

Hayden sounded more like he was trying to convince himself that they were prepared for the onslaught.

Peterson's first run from scrimmage went for 51 yards. He scored on the Vikings' first two offensive series, including one after a Jay Cutler interception. Before Cutler could even hear the play call in his helmet, the Bears were already trailing 14-0.

"It was a poor start," insisted Peppers, who didn't think the Bears defense was put it its heels. "But other than that, I felt pretty good about what we were able to do today."

Felt pretty good? Peterson had 104 yards and two touchdowns after the first quarter!

Peppers was right about the poor start, though. Once the Bears defense buckled down, they held Peterson to just 50 yards after that 1st quarter.

"We just got to come out with a higher sense of urgency" explained defensive lineman Israel Idonije. "Just make those plays."

With Urlacher hoping for a fast healing hamstring strain, Lance Briggs led the Bears with 11 tackles, 6 solo and 1 tackle for loss. The other linebackers who moved in to replace Urlacher ratched it up a notch too. Nick Roach manning the MLB position followed Briggs with 9 tackles, 5 solo and 2 tackles for loss. Geno Hayes who stepped in at strong side linebacker had 3 tackles, all solo and one tackle for loss.