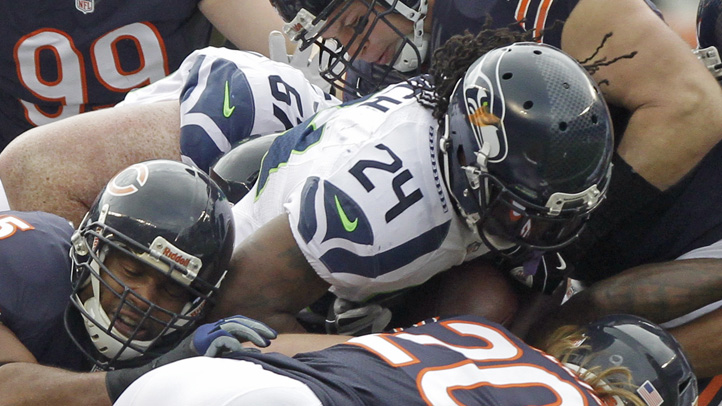 After being a stable force throughout the early season, the Bears defense fell apart during Sunday's game against the Seahawks and deserves the brunt of the blame for the loss.

"I don't think we were gassed," rookie Defensive End Shea McClellin said while answering questions about how the defense gave up 176-yards rushing and a go ahead drive to Seattle in the 4th quarter followed by the game winning score in overtime. "We rotate in and out enough we shouldn't be gassed.

Even Seahawks coach Pete Carroll agreed the Bears defense didn't look tired. Instead, he felt the defense gave Seattle favorable looks late in the game allowing a 97-yard drive to go ahead late in the fourth quarter, and an 80-yard drive to win in overtime.

"They didn't get worn down at all," Carroll said after the Seahawks won for just the second time on the road this season. "We just had some really good fortune and stuff working for us and we were really able to execute well."

Seahawks Quarterback Russell Wilson threw for 293-yards and scrambled for another 71-yards. He said the Bears gave his offense a look they were hoping for on the game winning drive ending in a Sidney Rice touchdown.

"We just changed the play," Wilson explained. "Coach Bevell did a great job of recognizing what they were trying to do."

Head Coach Lovie Smith took the blame for the defensive collapse down the stretch, knowing his team fell for the first time this season where the Bears scored the game's first points.

"Terrible job I did getting our football team ready," Smith said after the Bears lost for the first time this season despite scoring first. "I thought we were ready to go. Some decisions I made really hurt us early on." Smith was speaking about a failed 4th-and-1 in the 1st half instead of locking down three points from what appeared to be a routine field goal.

With only one more home game and three of their final four games against divisional opponents, Smith and the Bears will have to rebound quickly if they still want a chance for a playoff-bye...or even a playoff appearance at all.