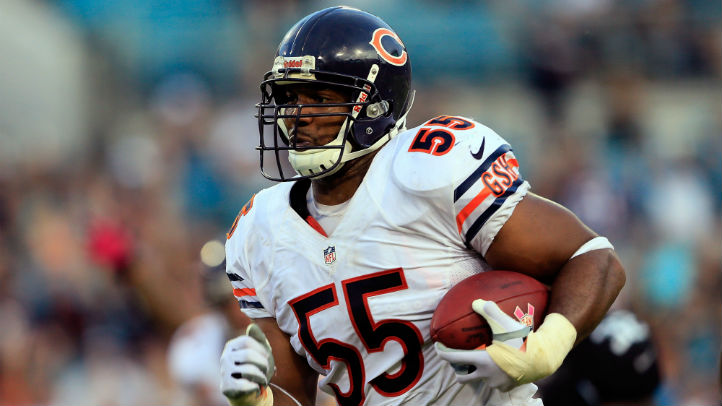 Until the Chicago Bears offense finds a consistent stride, the defense has taken over games. A fiery halftime speech by head coach Lovie Smith ignited a few flames, and the Bears rolled on to score 38 second half points.
"He basically cursed us out without cursing," cornerback Charles Tillman said of Smith's speech. "He raised his voice and gave that mean, surly, stern look."
Tillman should have been tired for a few reasons. He flew to his alma mater Lafayette, La., on Saturday for induction into the Ragin' Cajuns Hall of Fame. Just five days earlier, he scored on an interception return during Monday Night Football. Add his 36-yard return for a touchdown Sunday in Jacksonville, and Tillman becomes the Bears franchise leader in defensive touchdowns with eight trips to the end zone.

"Tell me that when I'm old, the day I retire, about all the stats I break," Tillman laughed. "It's cool, it's an honor, the Bears go back 200 years. ... All the players that come here, what they've done and to be that guy, yeah man, it's an honor."
And for the second straight week, Tillman had company.

Just like last week, his pick six was followed by a Lance Briggs interception returned for a touchdown. Three straight weeks with defensive touchdowns, back-to-back weeks with Tillman and Briggs going back-to-back. Brian Urlacher laid the hit on Gabbert when he coughed up the Briggs pick.

"I've never seen anything like it, two straight weeks, the same two guys with pick sixes," Urlacher marveled. "It's fun to be a part of it and watch these guys do it."
Fun is the operative word on the Bears defense, where a different guy stars each week. Defensive end Corey Wootton recorded two sacks and a forced fumble.

"It's definitely a lot of fun and the energy they bring all across the board" Wootton said. "It's great playing for a defense like this."
"The guys are playing well," said Julius Peppers, who didn't record any tackles Sunday in Jacksonville but did recover a Blaine Gabbert fumble. "There's no other way to put it, we're playing well."
The Bears will ride the wave into the bye week with 17 takeaways through their first five games. "I know they know how important it is to take the ball away," Lovie Smith said, "but after a while you see one guy doing it and you want to join in on the action."

Tip your hat to the defense. The Bears have a 21-5 record in games in which they score defensively since 2004.