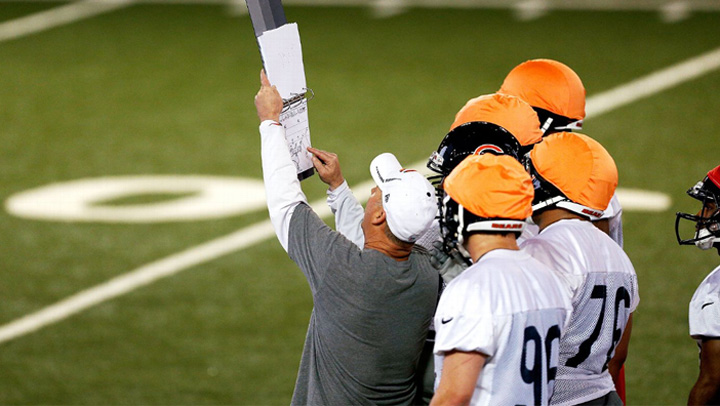 For many years, Bears special teams coach Joe DiCamillis was working on Thanksgiving Day as a member of the Dallas Cowboys staff.

Now that he's with the Bears, DiCamillas won't have a game to prepare for on Thanksgiving, but he doesn't have to dig very far to find reasons to be thankful, after surviving a severe storm four years ago.

DiCamillis was there when a microburst with tornado-like winds collapsed the Cowboys practice facility during workouts with the team inside.

"There was some weather that came in obviously. We had a rookie minicamp during that period. It was just a bad storm and things got worse from there obviously," DiCamillis said.

The players and coaching staff were evacuating when the roof collapsed, trapping some. DiCamillis broke vertebrae in his neck, but still, he says he was lucky..

"They told me when it happened that I wouldn't be coaching, maybe again, and for sure that year it worked out, you know. God took care of me and a lot of other people took car of me, for sure my wife," DiCamillis said.

DiCamillis is reminded by his aches and pains every day. He cant lie down, so he sleeps in a recliner every night.

I feel it every day believe me. Stiff, sore, all those types of things," DiCamillis said. "I think on Thanksgiving, it's a day you're happy that you're still here and your family is here, you're happy for your family also."

And DiCamillis doesn't have to look further than his friend Rich Behm, a Cowboys scout who was also in the accident and is in wheelchair, paralyzed from the waist down.

"When you look at Rich, he was there every day for four years while I was there, and he'd come wheeling into the office instead of walking into the office. I never lost perspective, I can tell you that much. I always knew how fortunate I was, even though I'm dealing with pain and numbness, I'm still walking, I can still hug my wife, I can still get up and get something, so I'm very thankful," DiCamillis said.