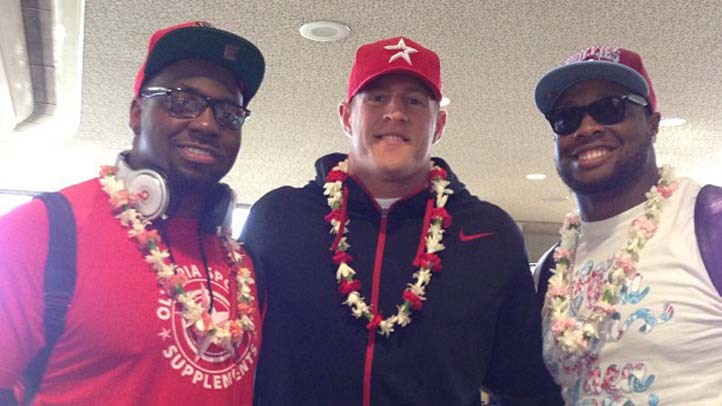 With temperatures dipping in Chicago from "ooh, that's cold" to "MY LIMBS ARE GOING TO FALL OFF!" a trip to Hawaii would be nice. That's what several Bears' players are doing to play in the Pro Bowl.
Henry Melton and Tim Jennings are in their first Pro Bowl, and they've started to share their experiences on Twitter and Instagram. Jennings wins the best son on the Earth award, because he brought his mother with him to Hawaii.
Me and mom dukes on the way to the airport! #vacationlife #backseatpimping instagr.am/p/UygQwzhqcI/ — Tim Jennings (@HennOrJenn26) January 22, 2013
Awwww. Henry Melton immediately ran into J.J. Watt, another young defensive lineman who has made a name for himself this season. Charles Tillman, who is playing in his second Pro Bowl, shared pictures of the beautiful, not-at-all-frozen scenery. You couldn't take us with you, Peanut?
But not every Bear has a happy Pro Bowl ending. Brandon Marshall had to withdraw after he had minor hip surgery last week. And though Lance Briggs was an alternate, he wasn't chosen to fill in. He explains it in a tweet.
Im not in the pro bowl. But its my own fault. I declined to play in it therefore when my number was supposed to be called they past me up — Lance Briggs (@55Berger) January 23, 2013
So Briggs won't be in Hawaii, but he's been to more than enough Pro Bowls.
Copyright FREEL - NBC Local Media