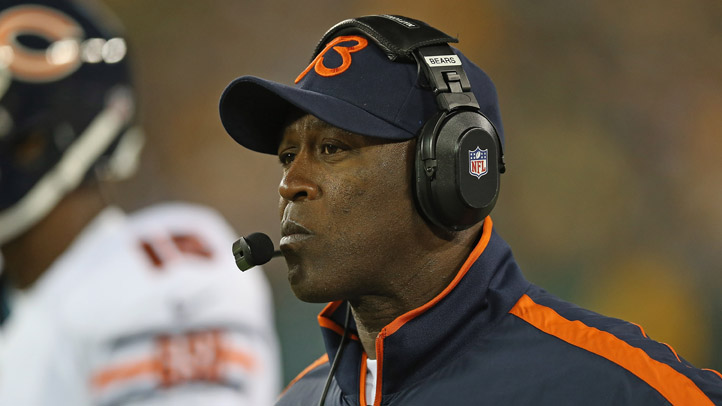 Bears head coach Lovie Smith shot down any idea of holding Quarterback Jay Cutler out another week as a precaution with a makeshift offensive line.

Cutler will start against the Vikings today at Soldier Field after a week of shuffling the offensive line.

Changes to the O-line were imminent after they gave up six sacks Monday Night in San Francisco. The Bears will start Jonathan Scott at Right Tackle in place of Gabe Carimi and Chris Spencer returns to the starting lineup at Left Guard where he started the first two games of the season.

"Right now my resume is not very good" Bears Offensive Coordinator Mike Tice said this week. "I'm the one calling the plays, I'm the one leading the offense and I have to do a better job, and I have to find a way to do a better job. For us, for all of us, players, and for my peers that I work with and for the fans."

Tice's first move was demoting Guard Chilo Rachal, who up and left the team upon receiving the word. Rachal returned and was eventually put on the Reserve/Non Football Injury List. He won't play the rest of the season.

Taking his place is undrafted Rookie Guard James Brown. He was called up off the practice squad to replace Rachal on the roster and is INACTIVE Sunday. Gabe Carimi was told he would not be starting, but his reaction was different.

"It's obviously upsetting" Carimi said. "I have a positive attitude about it and I'll come back from this."

Carimi, a 1st round pick in the 2011 NFL draft who is playing his first full season after a knee injury, has been praised for his professional approach preparing for every game, but his technique is allowing him to be easily beaten on bull rushes by defensive opponents.

"I've played good ball just playing inconsistent right now be it knee or be it aggression who knows what it is sometimes but I'll come back from this," Carimi said.

This week, Lovie Smith said any changes in the lineup are performance evaluated.

Defensive End Corey Wootton will start at Left Defensive End for the second straight game replacing Israel Idonije. The Bears are also without Wide Receiver Alshon Jeffery who had a minor knee scope Tuesday, Wide Receiver Dane Sanzenbacher, Defensive Tackle Matt Toeaina, Defensive Tackle Amobi Okoye, Defensive Eend Cheta Ozougwu who are all INACTIVE versus the Vikings.