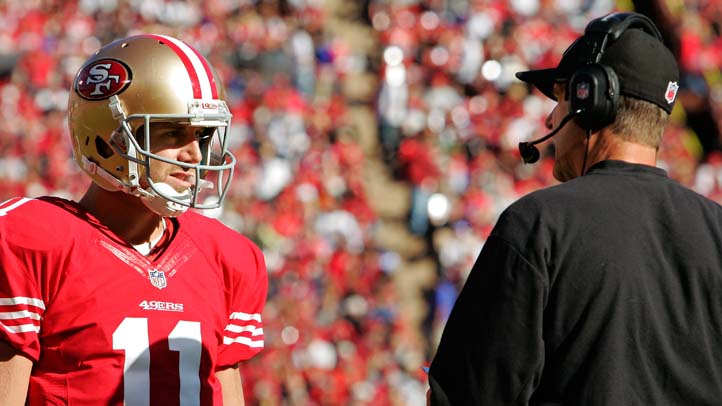 The 49ers are coming off an exhausting game that ended in an unsatisfying tie. They played sloppily, and ace kicker David Akers missed on kicks he has made in the past. Now they have a record of 6-2-1 and a weird-looking tie with their NFC West rival St. Louis. What else do you need to know about the 49ers?

Like Jay Cutler, 49ers quarterback Alex Smith suffered a concussion. But Smith has already been cleared to return to practice and did. He wore a no-contact jersey on Wednesday but is expected to play. This season, he's up-and-down, sometimes playing brilliantly, like against the Cardinals and Bills, and sometimes terribly, like in his three-interception game against the Giants.

The 49ers' defense is the No. 1 in the NFL at not allowing points and third in not allowing yardage. Though they aren't big at forcing turnovers, they just grind away at offenses, not allowing yardage. Using a 3-4 line-up on defense, the Niners are particularly strong on the right side, with stars Patrick Willis, Aldon Smith and Justin Smith coming at quarterbacks and running backs.

Frank Gore shines when on Monday Night Football. He has 677 yards, the tops among all active players. This season, he has 753 yards and is ranked eighth in the league. The team's other incredibly important offensive weapon is Michael Crabtree, who has 510 receiving yards.

Aldon Smith is a name you'll likely hear many times on Monday night. He has 9.5 sacks for a loss of 69 yards. However Justin Smith -- who is not related but did go to Missouri, like Aldon -- is without a sack after getting 16 last season.

The 49ers' current and previous head coaches both played for Chicago. Mike Singletary's time in San Francisco was tumultuous and didn't end well. Jim Harbaugh has turned the team back into the perennial contenders who has reigned over the league in the past. Under Harbaugh, the team is 19-5-1.
Copyright FREEL - NBC Local Media