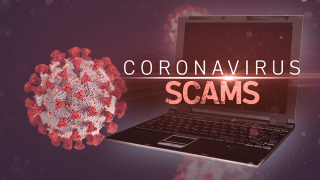 Online thieves are preying on the anxiety surrounding the coronavirus pandemic to make a quick buck, according to the Better Business Bureau.
"When you have a pandemic type situation, you have panic," said Steve Bernas, President and CEO of the BBB of Chicago and Northern Illinois. "Unfortunately, this is a scammer's paradise right now."
From masks to at-home test kits, Bernas said there is no shortage of items available for sale that claim to prevent and treat the coronavirus. Officials said currently there is no at-home testing for the virus.
"(Consumers') wall comes down because they want to find something quickly. They want to find a product to help their family," Bernas said.
Cyber criminals are also targeting employees who have been instructed to work from home. Bernas said a phishing email from supposedly legitimate health organizations is circulating.
"You have employees at home away from their network computers, so they're going to be on their own PCs doing work, and a lot of companies are not set up for that protection of those consumers through their firewalls," Bernas said.
The BBB offers the following tips:
Don't click on links from sources you don't know. It could download a virus onto your computer or device. Make sure the anti-malware and anti-virus software on your computer is up to date.
Watch for emails claiming to be from the CDC or other experts saying they have information about the virus
Ignore online offers for vaccinations. If you see ads touting prevention, treatment or cure claims for coronavirus, ask yourself: if there's been a medical breakthrough, would you be hearing about it for the first time through an ad or sales pitch?
Do you homework when it comes to donations, whether through charities or crowdfunding sites.
Be alert to "investment opportunities." The U.S. Securities and Exchange Commission is warning people about online promotions, including on social media, claiming that the products or service of publicly-traded companies can prevent, detect or cure coronavirus and that the stock of these companies will dramatically increase in value as a result.