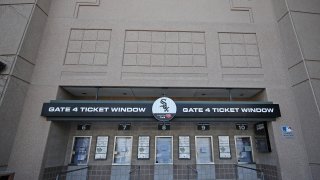 The Better Business Bureau is warning Chicago baseball fans Saturday that scammers are selling fake White Sox playoffs tickets.
Scammers use the excitement around playoff season to try and sell victims counterfeit tickets and merchandise, according to Steve Bernas, president and CEO of the BBB serving Chicago and Northern Illinois
"There are countless ways for consumers to find tickets online, with online marketplaces, ticket sellers, resellers and the like, and unfortunately, some of them are rip-offs," Bernas said.
With tickets primarily sold electronically, the BBB said tickets and QR codes required for entry may not be detected as fake until at the gate.
The BBB has received hundreds of complaints of ticket scams last year related to sporting events, concerts and theater performances.
Hundreds of complaints were also filed from customers buying counterfeit merchandise that appeared as official Major League Baseball apparel, the BBB said.
Here are some tips to purchase legitimate tickets:
Buy tickets from a known source or the venue
Look up ticket vendors through the BBB to check their legitimacy
Know the refund policy before purchasing
Use a credit card while purchasing for protection. Debit cards, wire transfers or cash transactions could cause for an additional loss of money
Be wary of fake advertisements promoting cheap tickets
Stay alert to high transaction fees on the final page of purchase. Some ticket sellers will collect personal information and sell tickets with extremely high fees to obtain more money without full transparency