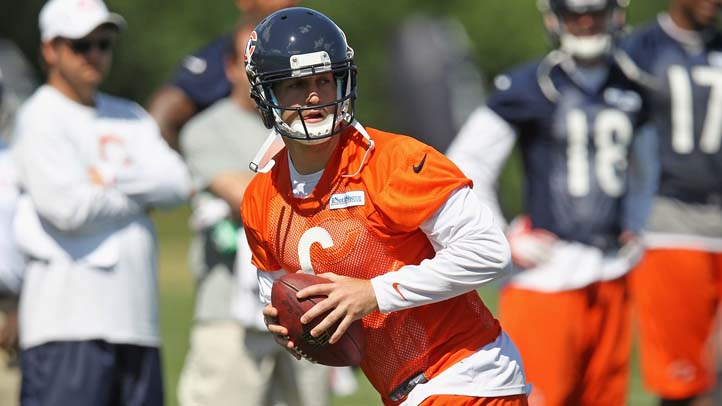 The Bears' 2011 season went into a tailspin after Jay Cutler was injured. The injury proved both the lack of the team's depth and the importance of Cutler.

With the addition of Jason Campbell, who started in Oakland and Washington and joins the Bears as a back-up quarterback, the depth problem was solved. Now the Bears need a big season out of Cutler to get the team back to the playoffs. New quarterbacks coach Jeremy Bates is already impressed with the growth he has seen in Cutler, who he also worked with in Denver.

"He still has the same arm strength he's always had," Bates told the Bears official web site. "I see him as the same player, except now he has more knowledge about defenses and more experience playing the game. So to me it's the same guy, only with more knowledge as far as just the maturity of playing the game and going through reps."

Bates also was impressed with what Campbell brings to the team.

"He's not the typical first-round quarterback that's been in the same system for years where it takes him a while to learn a new one. He's been through a couple systems in Washington and Oakland, so coming here he was able to adapt and start spitting out plays real quick. He was a quick study. He also has a great arm and he's athletic as well. But the most impressive thing is how well he's been able to adapt to a new system because sometimes with an older vet that can be a challenge."

Now Cutler, Campbell and Bates have the opportunity to prove the Bears offense can be as strong as its defense.