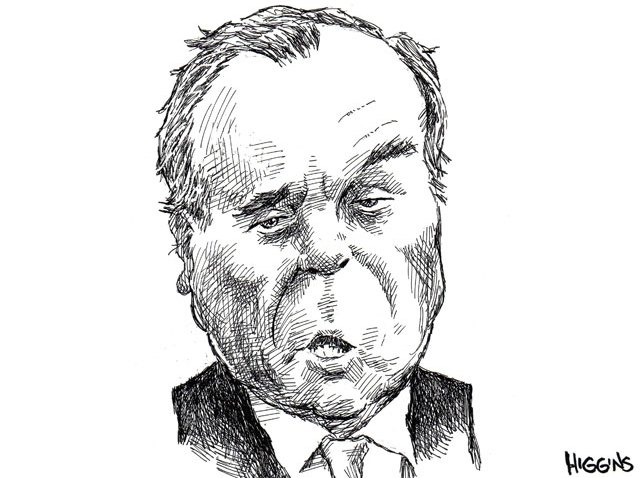 The last time the Chicago Blackhawks won the Stanley Cup, Barack Obama hadn't been born. Whether you believe he was gestating in Honolulu or in Nairobi, you can agree -- he wasn't born in a hockey town. As with most Americans, hockey has been an afterthought for Obama: he played basketball in high school, checks White Sox scores on his BlackBerry, and wore a Bears cap on Saturday Night Live.
When Obama visited the Washington Post newsroom, he asked "where are the sportswriters? I want to ask about the Redskins, Nationals and Wizards." (Causing local hockey fans to shout "what about the most successful team in town?")
But in the last year, Obama has finally discovered hockey. Before the Olympic gold medal final, he bet a case of Yuengling against Canadian Prime Minister Stephen Harper's Molson. (I wonder if the Canadians drank it.) And this Monday, scuttlebutt is he'll be at the Blackhawks game with Mayor Daley -- another politician who's suddenly discovered hockey, replacing his White Sox lid with a Blackhawks cap.
Unlike hockey player John Kerry or hockey mom Sarah Palin, Obama can't explain the no-touch icing rule. And when he thinks of a right winger, he probably thinks of Glenn Beck, not Patrick Kane. He's not exactly a fan, but he is learning to use hockey for his political advantage.
On a trip to Moscow, he told a crowd, "As a resident of Washington, D.C., I continue to benefit from the contributions of Russians, specifically Alexander Ovechkin" -- the Capitals' left winger. (Anybody think that was a Jon Favreau line?)
Yet Obama never made it to a Capitals' game, despite a campaign by the"Barack the Red" website, which doctored Obama's State of the Union speech to make it sound like he was telling Congress, "I love hockey." When White House spokesman Robert Gibbs was asked whether Obama would commit to attending a Capitals' game, he answered, lamely, "I'm sure he would very much enjoy going." As far as anyone knows, the Blackhawks-Flyers game will be Obama's first NHL contest.
Besides White House and City Hall photo ops, a Blackhawks victory would have another benefit for Obama and Daley. The Hawks have gone longer without a Stanley Cup than any other team.
"It's been a while since Chicago won anything," Obama noted at the White House ceremony honoring last year's champs, the Pittsburgh Penguins.
A Stanley Cup in Chicago will make the Cubs' futility look even more futile. As White Sox fans, Obama and Daley are going to love that.