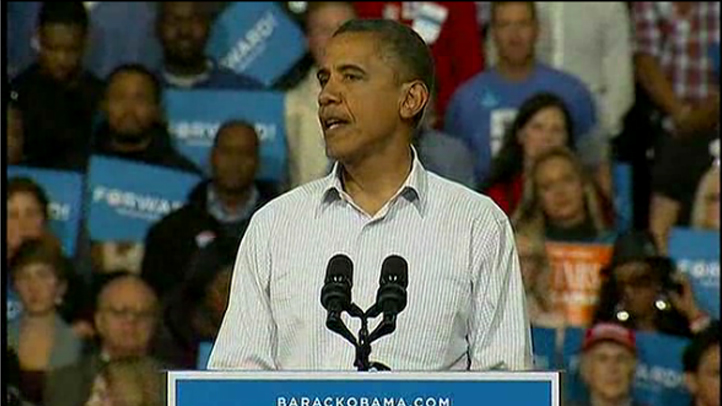 Thousands of people packed into the Delta Center in downtown Milwaukee to see President Barack Obama on Saturday. Two hours to go before the rally, the arena was packed like sardines in a mostly standing crowd.
Pop star Katy Perry took the stage at the Delta Center in downtown Milwaukee and revved up the thousands of people who packed into the area for the rally.

Plenty of Chicagoans came by train and car to be, in their words, "witness to history."
Among them were Rod and Joy Martin from Crystal Lake. She is a homemaker and he is an IT specialist working in the education field.

"We're a double minority," laughed Mr. Martin who is African American, "because in our neighborhood there are a lot of Romney signs."

For the Martins, education is the deciding issue in this election and they argue Obama has laid out an agenda the GOP has not.
The crowd in this Milwaukee arena is a rainbow of blacks, whites, Hispanics and Asians with quite a span in ages evident. There's a hip 10-year-old girl with a bright blue wig rocking to the music. And there are senior citizens for whom it is an effort to stand for the hours required before the event begins.
By 10A.M. the lines were already snaking around the Delta Center in downtown Milwaukee. Mothers, fathers, kids in abundance, labor unions, firefighters and more were standing under overcast skies waiting for the doors to open for a rally that isn't set to begin until the middle of the afternoon.
As huge a draw as President Obama is for this crowd and as much as the crowd wants to see a part of history, Perry, the multi-platinum music star is also a big part of the excitement.

Yesterday, it was Mitt Romney in Milwaukee's suburbs drumming up the vote and bringing out Green Bay Packers' superstar, Bart Starr, to amp up the crowd.

Though polls show Obama leading Romney here in Wisconsin by 5 points, national polls have the race at a tie. Though early voting has been pegged as more favorable to the Democrats, Republicans remind us that their base turns out on election day.

"I'm cautiously optimistic," said Chicago GOP mega-fundraiser and businessman Ron Gidwitz by phone this morning.

Gidwitz held a big money event for Romney last night attended by the candidate's son, Scott, and Wisconsin Senator Ron Johnson.

Democratic strategists have a large share of their own optimism given the poll numbers coming out of the battleground states. But this is a take-nothing-for-granted moment in a bitterly fought contest.

After Obama leaves here this afternoon, he's off to Iowa and Virginia. Romney, meanwhile, hits New Hampshire, Iowa and Colorado today and tonight.