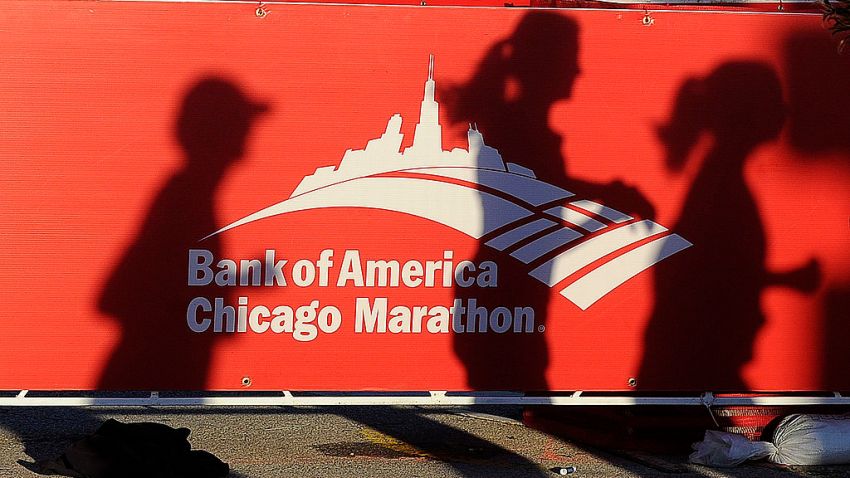 NOTE: NBC 5 will offer complete live coverage of the 2017 race beginning at 7 a.m. CT online and on TV. The race can be streamed live from around world on the NBC Chicago app, which will also offer a live stream of the finish line from 11 a.m. to 3 p.m. Click here for more.
Every fall, thousands of volunteers participate in the Bank of America Chicago Marathon, powering a Chicago tradition now in its 40th year. From filling and handing out water on the course to staffing aid stations and check-in points, volunteers help this world-class race run smoothly.

Here's a list of your 2017 Chicago Marathon volunteers. Thank you for your time and all your hard work to make this year's race a success!
11 East Nurses
Addison SNA
Alpha Kappa Psi
Alpha Kappa Psi - Tau Chi
Alpha Phi Omega - Beta Gamma
Alpha Phi Omega - Sigma Sigma
Alpha Sigma Alpha
American Airlines
Amundsen Vikings
APO Midwest Chicago Alumni Assn. # 39
APO Midwest-Chicago Alumni Association
Arlington Trotters
Asian Cultural Exchange
ASPIRA Miguel Del Valle Center
Association of Indian Pharmacists in America
Athletico
Aurora University ATC Students
Aurora University Circle K International
Aurora University Cross Country Team
Aurora University Nursing Students
Bank of America
Bernie's Book Bank
Black Girls Run
BLESSONS, NFP
Bolingbrook High School Girls Cross-Country Team
Boone Grove High School
CERT-Northbrook
Chamberlain Nursing
Chi Sigma Omega
Chicago Bulls College Prep
Chicago Carolina Alumni Club
Chicago Medical School/Rosalind Franklin University Medical Students
Chicago Military Academy - Bronzeville
Chinese American Service League
Citadel
CNA
College of DuPage RN/NP Students
Collegiate Scholars Program
Columbia College
Committee of Achievement Learning and Mentoring
Conant Cross Country Team
Corn Fed Spartans
Cortiva
CSU Latino Resource Center Family
Deerfield Girls XC
Delta Kappa Delta Sorority Inc.
Delta Phi Lambda
Delta Sigma Pi
DePaul ACFE
DePaul Alpha Phi
DePaul Alpha Phi Omega
DePaul Beta Alpha Psi
DePaul Black Student Union
DePaul Chi Omega
DePaul Chicago Marathon Course
DePaul DECA
DePaul Delta Zeta
DePaul Honors Program
DePaul RN/NP Students
DePaul Sigma Chi
DePaul University
Dominican University RN/NP Students
East Leyden NHS
Elmhurst Cross Country
Engineering World Health
Eureka Grand Chapter - O.E.S.
Evanston Cross Country
Evergreen Park Community High School
FINRA
Gamma Phi Omega
Gems Gives Back
Geneva Vikings XC
George Westinghouse College Prep
Glenbrook North Cross Country Team
GPAAC
Grayslake Central Cross Country
H.O.L.A.
Hancock College Prep
Harvest Bible Chapel
Heidelberg Athletic Training Students
Holy Trinity High School
HOPE Worldwide IL
Illinois Cross Country Club
Illinois School Psychologists Association
Illinois Tech Circle K
Illinois Tech Phi Kappa Sigma
Indo Yoli Group
Jim's Bridge to a Brighter Future
Jones College Prep Girls Cross Country
Junior League of Chicago
Kappa Alpha Rho
Kappa Pi Beta Fraternity Inc.
Kapwa
Kennedy-King College Health and Wellness Club
Kinesiology Club
Kroy Running Club
Lambda Sigma
Lincoln-Way Central Track & Cross Country
Lindblom JROTC Department
Loyola EMS
Loyola EMS Pre-health Students
Loyola Medical Group
Loyola Pre-PA Association
LUC Habitat for Humanity
Luther North College Prep
Make A Difference Youth Foundation
Mayas Soccer Academy
Metztli
Molex
Moraine Valley Community College
Morgan Park HS JROTC
Morton Ambassador Program
Motorola Mobility Foundation
Muchin College Prep Z-Baes
Mundelein High School Girls Cross Country
MWU CCOM EM Club
New Trier Boys Cross Country
Next Bites
NIU Alpha Phi Omega
NIU Beta Alpha Psi
NIU Mortar Board
NMH Nurses
North Central College Athletic Training Students
North Park SNA
North Park University ATC Students
Northside College Prep HS Key Club
Northwestern Club of Chicago
Northwestern PA Students
Northwestern University Medical Students
Olivet Narazrene Univerisity ATC Students
Omega Delta and Delta Phi Epsilon
One Brick
OPRF Swim & Dive/Huskie Athletic Council
Oswego High School Students
Palatine High School: Project Excel
Peace & Education H.S.
Phi Kappa Psi IL Zeta
Phi Sigma Sigma - Zeta Tau
Pilsen Community Church
Pre Nursing Student Organization
Pretty in Pink
Pride@Groupon
Purdue Timmy Global Health
Rauner College Prep Seniors
Resurrection University
Resurrection University SNA
Riverside Brookfield
Rogers Park High School
Romeoville High School Cross Country
Rosary Track & XC Team
Rotary International
Rowe-Clark Math and Science Academy
RTC Medical Prep
Run to the Pub
Runners' Helpers
Rush Medical Group
Rush Oak Park Hospital ED
Rush PM&R
Saint Patrick High School
See the Silver Lining
Senior Chief's Crew
Service Among the Stars
Sigma Alpha Epsilon
Sigma Alpha Mu
Sigma Phi Epsilon
Sisters In Touch
SOMA
St. Clement Church
Students Run CHI
Tamil Nadu Foundation
Team Chicago Spartan
Texas Colleges Alumni
Theta Xi Fraternity
Triangle Fraternity
Tri-Masters Sports Initiative
Trinity International University ATC Students
Triton College Track and Field
UChicago APO Gamma Sigma Chapter
UCMC RNs
UIC ALPFA
UIC CHANCE Program
UIC Filipinos in Alliance
UIC Global Brigades
UIC HACE student chapter
UIC HSA & SSO
UIC LAS 110
UIC Medlife UIC
UIC NRHH
UIC Phi Kappa Psi
UIC Phi Sigma Sigma
UIC Pre-Dental Club
UIC Pre-Physical Therapy Club
UIC Student Nurses' Association
UIC Tau Kappa Epsilon
University of Chicago
US Navy Recruiting Training Command
US Navy/United States Public Health Service
USADA Elite Athlete Crew
Von Steuben Key Club
Wheeling High School
Whitney Young High School
Women RUN The World
World Bicycle Relief