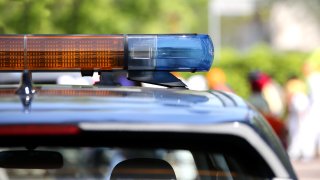 Aurora police say three suspects remain at large after they were seen driving erratically and firing an automatic weapon in the air Tuesday afternoon.
According to police, officers responded to the 200 block of Hill Avenue at approximately 12:30 p.m. after receiving reports of gunfire.
An officer in the area observed a vehicle driving erratically, and one of the occupants in the vehicle was firing out of the window with an automatic weapon.
Police say another officer spotted the vehicle and attempted to make a traffic stop, but the driver began to flee. Officers pursued the car into Oswego, where the vehicle jumped a median and the officer lost sight of it, officials said.
Officers were able to locate the vehicle near the intersection of Waterbury Circle and Ogden Falls Boulevard, but the men were not inside.
Aurora and Oswego police set up a perimeter and checked nearby Ogden Falls Park for the men, with officers from the Kendall and Kane County Sheriff's Departments assisting. The Illinois State Police also lent assistance during the search.
A police airplane, drones and K-9 units were also dispatched, to no avail. Detectives have received surveillance footage from a homeowner
Police provided descriptions of three of the suspects. One was described as a Black male with black dreadlocks, wearing a white t-shirt, gray sweatpants and red shoes.
A second suspect was described as a Black male with black dreadlocks, a navy blue sports jersey, black pants with a white stripe on the sides, and dark shoes.
A third suspect is described as a Black male with short hair, wearing a white t-shirt, jean shorts, white shoes, and a black baseball cap.
We will update this story with more details as they become available.