First, Jonas Edmonds dropped off his cousin at Midway Airport to catch a flight to Egypt.
Then, he returned to his cousin's Aurora home to collect the uniforms Hasan Edmonds once wore as a member of the Illinois National Guard, the Chicago Sun-Times is reporting.
After the feds arrested him, Jonas Edmonds lied about his cousin's trip to Egypt. He told authorities, "He's going to visit a friend or wherever he's going. I don't know. Somebody. He's trying to move there."
But Jonas Edmonds knew that Hasan Edmonds had really set out to join Islamic State terrorists, according to Jonas Edmonds' 22-page plea deal with prosecutors. Not only that, but Jonas Edmonds had planned to disguise himself in Hasan Edmonds' uniform and attack the Guard base in Joliet where Hasan Edmonds had trained. He had hoped to kill as many as 120 soldiers, prosecutors have said.
Jonas Edmonds pleaded guilty Wednesday to conspiring to provide material support to terrorists and lying to the feds about international terrorism. He now faces as many as 23 years in prison after admitting his guilt in front of U.S. District Judge John Lee. His sentencing hearing is set for Jan. 27.
Jonas Edmonds appeared in court dressed in orange jail scrubs. The hearing was not attended by his family. His lawyer, James Graham, said his wife and kids support him.
"He and his family are just happy to put this behind him," Graham said.
Graham also emphasized that Jonas Edmonds is not cooperating with prosecutors, in spite of his plea. Hasan Edmonds is set to plead guilty Monday.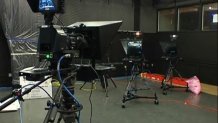 Authorities found an Illinois National Guard drill schedule, as well as an "army jacket," "army shorts" and "military brown boots" when they searched Jonas Edmonds' townhouse, records show. He was arrested without incident March 25, around the same time authorities arrested his cousin at Midway Airport carrying a black backpack. Records show the backpack was filled with all-weather and camouflage notepads, a camera, a Quran and two books: "Fortress of the Muslim" and "The Covenant of the Flame."
A criminal complaint suggests undercover feds kept close tabs on the cousins online at every step in their alleged plot. But Hasan Edmonds' military training and access to military facilities seemed to elevate the seriousness of their case above others who have faced terrorism charges in Chicago. The Edmonds even visited the National Guard base with an undercover fed the day before their arrest and discussed where the soldiers trained, records show.
That's when Hasan Edmonds allegedly entered the base and retrieved a military training schedule, which he gave to his cousin, the feds say.
The feds say Hasan Edmonds, a member of the 634th Brigade Support Battalion in Joliet, plotted for his cousin to "put the fear of Allah in their hearts and minds right here in the homeland."
Jonas Edmonds asked an FBI undercover employee "to assist in the attack, and explained that they would use Hasan Edmonds' uniforms and the information he supplied about how to access the installation and target officers for attack," according to the U.S. Attorney's office.
Hasan Edmonds told his cousin to "kill the head," prosecutors said.
Authorities became suspicious of Hasan Edmonds late in 2014, when the FBI learned he and his cousin had devised a plan for Hasan Edmonds to travel overseas and use his military training to fight for the Islamic State.
Copyright CHIST - SunTimes