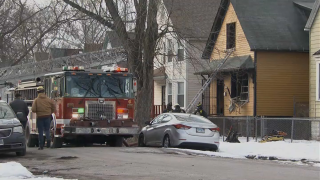 Seven Chicago firefighters were injured when a "flashover" occurred at a house fire Saturday afternoon in the Roseland neighborhood, with the force throwing multiple firefighters off the home's front porch, officials said.
Several firefighters were forcing entry into a home in the 200 block of West 112th Place when the "flashover" took place, according to Chicago Fire Department Commissioner Annette Nance-Holt.
A "flashover" typically occurs when a combustible surface in a compartment or enclosed space rapidly and simultaneously ignites, according to FEMA.
Four firefighters were blown off the porch, but weren't seriously injured, according to the fire commissioner. All four were transported to Advocate Christ Medical Center in Oak Lawn, and three were slated to be released in the hours following the blaze.
The fourth firefighter may be transferred to Loyola University Medical Center due to burns sustained in the incident, authorities said, noting the move would simply be a precaution.
Three additional firefighters were inside the residence at the time and managed to evacuate safely. They were taken to OSF Little Company of Mary Medical Center in Evergreen Park and also expected to be released Saturday evening, Nance-Holt said.
Speaking at a news conference following the fire, Nance-Holt took a moment to recognize the first responders who put their lives on the line daily.
"It's not enough that we could ever do or say to thank them for their courageous acts every day, whether it's a paramedic saving a life or a firefighter bringing somebody out," she said. "That's what we do, and that's what we signed up to do."
CFD's Office of Fire Investigation has opened an investigation to determine what may have caused the fire.