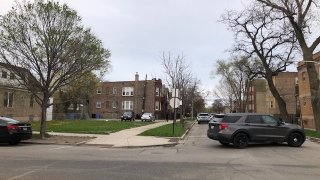 Chicago police are investigating after four people, including a 17-year-old boy, were injured in a shooting on the city's West Side.
According to authorities, the shooting took place in the West Garfield Park neighborhood near the 4400 block of West Gladys Avenue.
The four individuals were standing on a sidewalk at approximately 2 p.m. when a person in a passing white-colored sedan opened fire, striking the victims.
A 17-year-old boy was struck in the buttocks by the gunfire, and was taken to an area hospital in critical condition, police said.
A 27-year-old man was shot in the lower left leg, and a 32-year-old man was shot in the left buttocks. Both were taken to area hospitals in good condition, authorities said.
A fourth victim, a 39-year-old man, was shot in the back, and was also listed in good condition.
No suspects are in custody, and Area Four detectives are investigating the shooting.