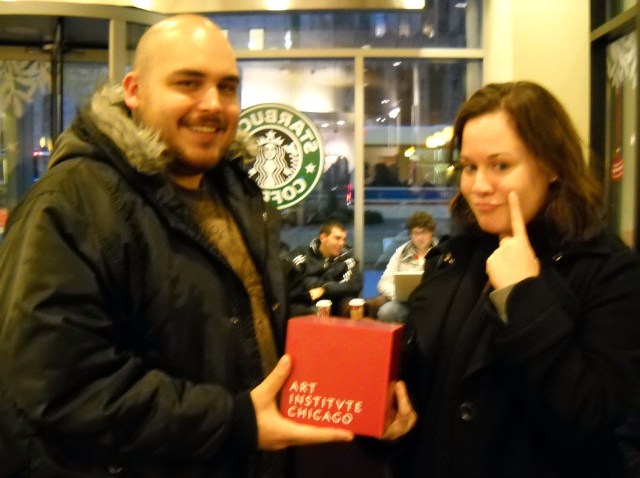 Did you find one of the Art Institute's 500 red cubes?
Consider yourself lucky if you did; the quest officially ended Sunday and not all of the promotional items were discovered. Only 314 of the 500 cubes had been found and reported.
The Art Institute now has a tongue-in-cheek "Lost Cube" campaign running to help find the remaining 186. They've posted fliers asking "Have you seen this Cube?" and plead "Help us find this sweet, loving cube. It was so young, we did not even get a chance to name it."
Quick recap: A few weeks ago the Art Institute launched an ad campaign intended to spark interest in the museum; they scattered hundreds of six-square-inch cubes around the city.
Each of the cubes came assigned with an art project, which the lucky finder could submit at the website 500-ways.com. "Cubists" uploaded drawings, paintings, photos and comments. Anyone interested in the campaign could visit the website and track all of the cubes' progress.
In addition to the small red blocks, four giant cubes (8-foot tall) were placed in various locations, including Navy Pier, Oglivie Transportation Center, the Wit Hotel and our very own NBC Plaza.
An exhibition featuring the found Cubes is set to open in early March, reports the Chicago Tribune.
Yours Truly actually got his hands on one of the rare cubes. My friend Connie Reyes had an unfortunate but amusing adventure locating Cube #412, which was atop the giant cube in the NBC Plaza. The cube's assigned project read as follows:
"Take a photo of your cube in a different state than the one where you found it. (Try to include something recognizable in the background.) Upload your photo [at 500-ways.com], then leave the cube with someone in that state so the cube may continue its journey."
Reyes handed the cube off to me, and, following orders, I took the cube to several different states before passing it along.
To see which states Cube #412 visited, check out the photos at the Art Institute's website.
Matt Bartosik is a Chicago native and a social media sovereign.
Copyright FREEL - NBC Local Media