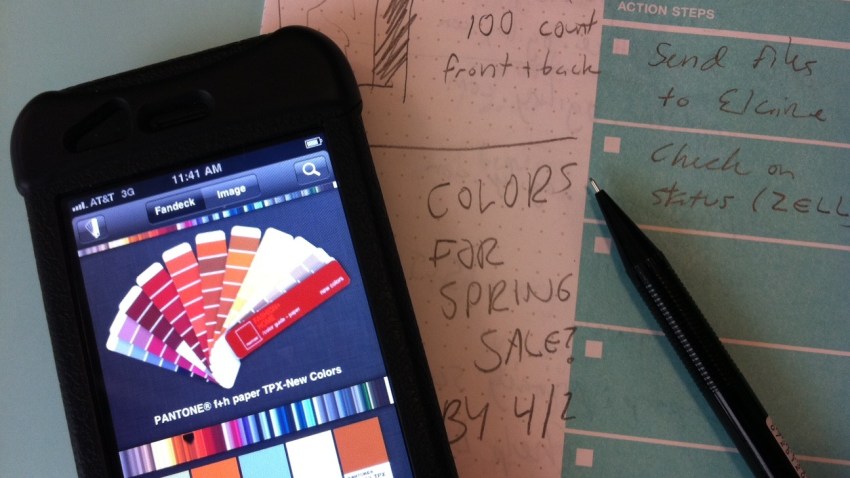 Spanish artist Joan Miro once said, "I try to apply colors like words that shape poems, like notes that shape music." To elaborate on that thought, how can you apply colors to shape your business' success? You also may be asking, is there an app for that?
The myPantone app is the ultimate resource for all things color. If you have ever partnered with a marketing/advertising firm, you know how important Pantone books are for internal teams and print producers to create brand identity, advertising, and direct marketing. By using the Pantone system, business leaders have been using color to sell their offerings successfully for decades.
Now in this digital age, you can keep over 10,000 Pantone chips all on your phone, and use them for just about any purpose imaginable. Interior design? Industrial? Advertising or fashion? Doesn't matter what it is; the myPantone app will help you create fresh color palettes anywhere. Impress your vendors and bring your own color palette to the meeting. By speaking your visual team's language, you can be one step closer to eliminating the extra emails, the head scratches, and the mistakes that happen when the finished product isn't the right color. Pantone insures that all color will be consistent, be it on fabrics, walls, paper or browsers.
How does the Pantone system work? Each chip comes with a code. For example, that shade of red in last year's fall postcard worked really well and consumers gave positive feedback. Want to try it again this year? Instead of telling you designer to use that "red from last year," you can be concise and direct: use 7627 C. The Pantone libraries are fully integrated with most software, including Adobe Suite. Want to do a digital version in addition to the printed one this year? The app automatically gives you the HTML code and values that mimic how the color looks in print.
There are also a slew of new features that aren't in the books. Already have a photo you want to use but don't know what color to apply to the brand messaging? Upload your photo to the app, and it will give you 5 chips that complement the photo. It's like having a personal color specialist. If you need to catch up on the latest trends in fashion and interior design, the app features hundreds of palettes specifically geared toward these industries.
The myPantone app is available on iPhone for $9.99 and on Android for $7.99.
Elliott Beazley is a graphic designer/web developer from Atlanta, Georgia who goes by the alias "ebeaz." A former NBC intern, he now works at Ogilvy & Mather. If there's time, he also takes on freelance marketing and design projects. Elliott is a graduate of the School of Art Institute of Chicago's visual communication program, where he was also an art director for the school newspaper, F Newsmagazine. In first grade, when asked to write down what he wanted to be when he grew up, he wrote "deziner."