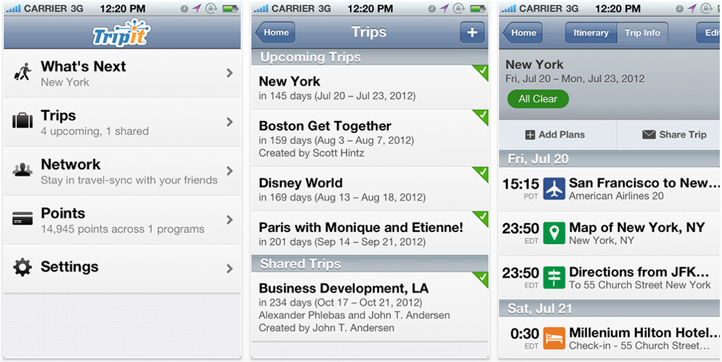 Imagine just forwarding all your travel confirmation emails and suddenly having all your travel plans in one central location, in one account, with one login. Top it off with notifications that your flight went on sale and getting to take advantage of those discounts, even after you already purchased your ticket.
Tripit isn't new, but it's really starting to take off in the business community as the best resource for organizing all your travel. Here is a run down of the features of this incredible resource and how you can utilize some of its greatest tools.
Tripit is a place where you can organize and store you travel data. The best thing about the service is its ease of use. To add travel plans you just forward your confirmation email to one email address and all your plans get added directly to your Tripit account. The system can even add your trip information to your calendar. When you book a flight your account automatically blocks off the date range of your trip. As you add other travel components they just fall under the umbrella of that specific trip.
If a flight goes down in price Tripit will email you so you can contact the airline and receive credit towards your next flight for the difference in fair. It also sends you updates of flight changes so you can stay on top of your travel plans.
Tripit has applications for your mobile phone, iPad, and of course your computer. They are all easy to use and with everything in the cloud the information is seamlessly updated across each device.
You can share your profile with people and give them basic access to view your travel plans or access to change your itinerary. There is also a social component where you can connect with friends. The other day I was able to meet my uncle for lunch at a random airport because Tripit notified me that one of my contacts was in the same airport…that's pretty cool.
With all your confirmation numbers, travel plans, and regular updates Tripit is the best tool you can find to keep your travel organized. Oh, and did I mention that it is free? Hop on over to the iTunes store to give it a shot.
Jabez LeBret is the author of the Amazon No. 1 bestselling law office marketing book How to Turn Clicks Into Clients. As a partner at Get Noticed Get Found, a legal marketing agency, over the last nine years he has delivered over 800 keynote addresses in six countries. His main area of expertise is managing Gen Y in the workplace, advanced Facebook strategies, LinkedIn strategies, Google+, SEO, local directory optimization, and online marketing.