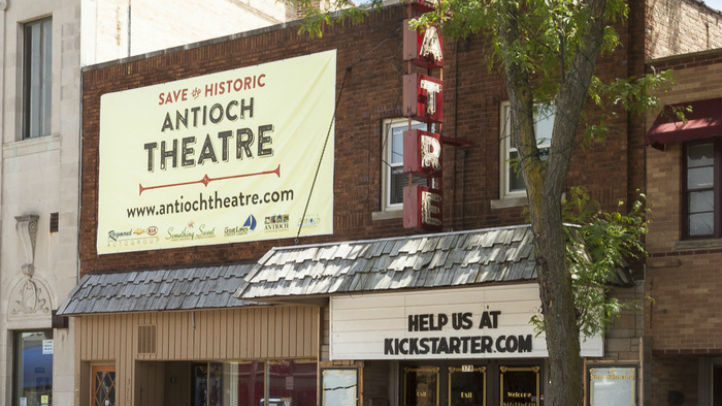 The owner of a shuttered suburban movie theater is hoping he can crowd fund enough money to save the historic site.
The Antioch Theatre closed its doors in May following financial fallout due to maintenance and technology issues, but owner Tim Downey is hoping he can drum up community support to restore and reopen the building, returning it to its position as a staple in the suburban city.
Downey created a Kickstarter fundraising page titled "Save the Antioch Theatre," asking for residents to raise $65,000 in 45 days to help pay for new digital equipment-- and he's offering up incentives to his supporters.
The theater first opened in 1919 as a live performance venue called the Majestic Theatre. It was converted to a single-screen movie theater and renamed the Antioch Theatre in 1924. But manitenance problems, ownership struggles and a mandatory conversion to digital projection forced the building to close its doors in May.
New owner Downey hopes to renovate and expand the theatre by adding a 29-seat boutique theater, new screens, drapery and seating, a new marquee, a renovated lobby, sprinkler fire protection and, with the help of the Kickstarter page, new digital projection and sound.
With a little more than two weeks left on the Kickstarter event, residents have already pledged to donate more than $36,000 to the cause.
But there's an added incentive for those donate.
Supporters who pledge $10 or more will receive rewards like free movie passes, concessions, engraved glass stars, a personalized seat plaque, or even an engraved granite sidewalk star outside the theater. The higher the donation, the bigger the reward.
"Movie theaters are like heartbeats for small downtowns," the theater's website reads. "When a downtown theater closes, fewer people visit, and other businesses suffer too. We want to make sure that doesn't happen."