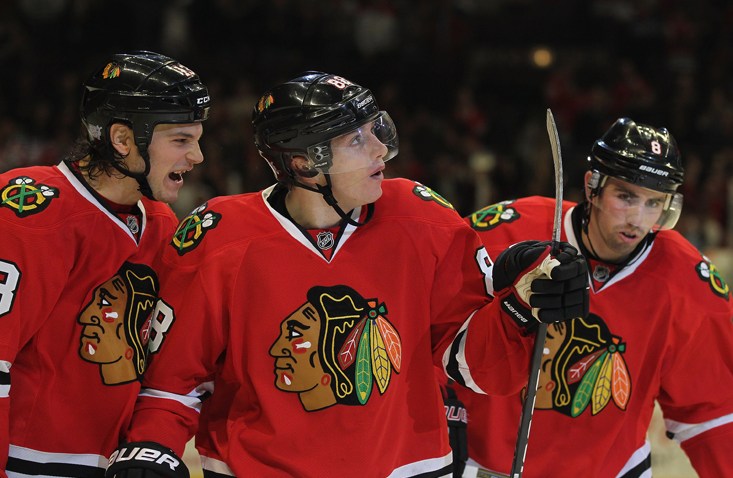 Some numbers that you don't always see or hear concerning the Hawks:
9.3: Nick Leddy's CORSI per 60 minutes. In effect, it indicates that for every 60 minutes that Leddy is on the ice, the Hawks attempt around 10 shots more than the opponent does. The main thing asked of Leddy is that he aids the Hawks transition game from the second pairing, and this would tell you that he is. While you'd like it to be slightly higher -- Brian Campbell's was around 20 last year -- it's been growing since being paired with Niklas Hjalmarsson. All encouraging signs.
33.1% and 48.7%: The first is the percentage of shifts that Marcus Kruger starts in the offensive zone, the second is the percentage of shifts that end in the offensive zone. It's actually a pretty staggering difference, 15th best in the league (Bolland is 17th). In simple terms, Kruger is having to start his shifts in the hardest areas a great majority of the time, but more than almost any forward in the league he's turning around those shifts to get up the ice. It's a pretty big indicator of how much his game is growing.
60.8: Patrick Sharp's faceoff percentage. Sadly, he's only been asked to take 51 all season. There's no reason he can't be taking all of Patrick Kane's draws, with the rate he's winning them. It would also help the penalty kill tremendously to have Sharp taking draws on that, because possession off a faceoff can mean 20-30 seconds killed if cleared correctly. Just because he's taking the draw doesn't mean he's playing center. It's easy enough to switch.
23: The amount of shots the Hawks blocked against Vancouver. indicates they didn't have that much possession, but the Hawks always pile up this number because their defensive game is predicated on getting in shooting lanes and clogging things up. Still, you don't want to see it this high when you've given up over 30 shots on goal as it is.