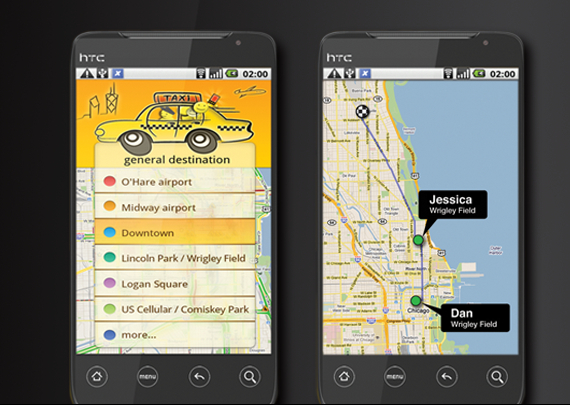 All hail Taxi Share Chicago, an innovation in shared commuting and one of the top mobile apps released by a Chicago-based developer in 2011.
Taxi Share Chicago, currently exclusive to Android devices but with an iOS version slated for early 2012, helps commuters save money on cab fare by finding others traveling in the same direction.
Planning a trip to Midway from your Lakeview apartment in 20 minutes? Tap into Taxi Share Chicago to see if you can share the ride. Want to work out logistics with your potential travel buddy? Just use the app's internal messaging system to work out all the details in advance.
We're not the only ones singing the app's praises as it was a Grand Challenge Finalist in the first ever Apps For Metro Chicago Illinois competition.
In addition to helping consumers save money and reducing carbon emissions, sharing a taxi with a complete stranger just might just help you find the love of your life. At least that's what happened to attorney Daniel Fedor, who came up with the idea of Taxi Share Chicago after meeting his eventual wife in a cab.
Fedor commissioned app developer CyberWalkAbout.com to build Taxi Share Chicago. CyberWalkAbout is run by Uki Dominque Lucas, who is also the founder of the Chicago Android developer user group. The company recently raised an undisclosed amount of angel financing from Scott Kluth, founder and CEO of Whiting, Indiana-based CouponCabin.com, which itself recently secured $54 million in venture capital financing.
In addition to its upcoming iPhone app, Taxi Share Chicago just expanded with a new San Francisco-focused cab sharing application.
All-Purpose Transportation App
Another commuter-oriented Android app that was recognized by Apps for Metro Chicago is TreKing. The Swiss army knife of public transportation apps, the $3 TreKing application supports Chicago's four main transportation systems (CTA buses, CTA trains, Pace buses and Metra). TreKing also includes snazzy mapping and trip-planning features.
Bears Acquire an iPhone app
Not all of Chicago's top iPhone apps and Android apps are transportation-based. One bright spot of the Chicago Bears' nightmarish December is the launch of an official iPhone app. While the app includes news, stats and social media tracking for all things Bear, regrettably it cannot help the team find an adequate backup quarterback.
Alas, there is not magic app for that.
Brad Spirrison is the Managing Editor of Appolicious.com and AndroidApps.com, where consumers find mobile apps they'll love. The Appolicious family of sites (which also includes video review service AppVee.com) and mobile apps (for the iPhone and Android devices) are discovery tools to help consumers browse, search and share recommendations for the hundreds of thousands of apps available on the iOS and Android platforms. Spirrison, a longtime Chicago-based media and technology commentator, lives in Lakeview with his wife and young son.