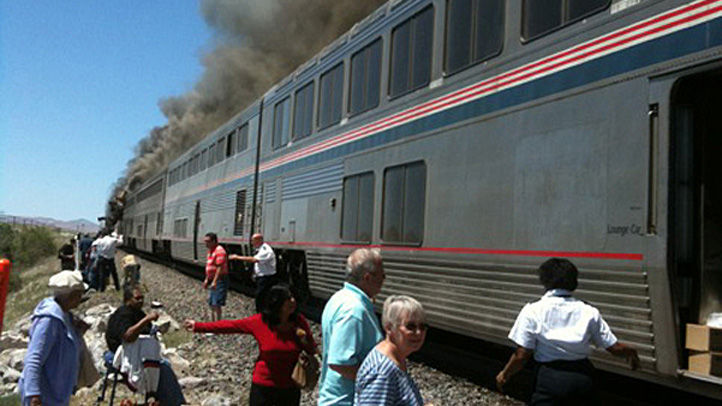 Federal authorities plan to look into the driving and medical records of the semitrailer driver who died when the truck slammed into an Amtrak train, killing a train crew member and injuring dozens of passengers.

Peter Knudson, a spokesman for the National Transportation Safety Board, said they also will look at autopsy results to determine whether the driver had consumed any drugs prior to the collision Friday.

The big rig plowed into the California-bound train at a crossing in a rural area about 70 miles east of Reno. Knudson said federal investigators would make sure that railroad lights and crossing gates were working at the time.

Nevada Highway Patrol Trooper Dan Lopez said the gates and warning lights were working. Witnesses told authorities that the truck didn't seem to attempt to stop at the crossing when it crashed through the gate.

The driver was the only occupant of the semi, which was hauling two empty gravel trailers.

MSNBC reported that at least six people have been reported dead, as confirmed by officials late Saturday night.

About 20 people aboard the train were taken to hospitals in Reno and Fallon, but Lopez didn't know the extent of their injuries. Dan Davis, spokesman for Renown Regional Medical Center in Reno, said two people were in critical condition, four were in serious condition and three were in fair condition.

"We're seeing the typical kinds of injuries you see in an accident like this -- blunt force trauma, fractures, abrasions, lacerations and internal organ injuries," Davis told The Associated Press.

Amiee Fulk, spokeswoman for Banner Churchill Community Hospital in Fallon, said more than 10 people were treated in its emergency room, but she was unsure whether any were admitted into the facility.

Amtrak spokesman Marc Magliari in Oakland, Calif., said most of the injuries were not life-threatening. He said 204 passengers and 14 crew members were aboard the California Zephyr en route from Chicago to Emeryville, Calif., which is about 300 miles west of the crash site.

Amtrak said the other passengers were taken to schools for food and shelter, and that they would make the rest of the trip west on buses.

Nevada Gov. Brian Sandoval visited with passengers in Fallon.

"Our hearts go out to the victims and their families,'' the governor said in a statement. "(My wife) Kathleen and I will keep them in our thoughts and prayers."

The collision occurred on tracks owned by Union Pacific Railroad. It was uncertain how the accident would affect train traffic on the railroad's main east-west line across Nevada, railroad spokesman Aaron Hunter said. About 20 to 25 freight trains use the line daily.

"It's too early to know how long this line will be blocked by this incident," Hunter said. "We have an alternative route to the north, but it takes longer to reach destinations on that route."

The collision was on a portion of tracks that cross U.S. 95 about three miles south of I-80 in the heart of the Forty-Mile Desert. That was considered one of the most difficult sections of the entire overland journey by California-bound, covered-wagon pioneers in the 19th century.
Video from KTVN, the CBS station in Reno
This bottom-dumping gravel truck collided with an Amtrak train outside Reno, Nevada.
The most seriously injured passengers were transported to hospitals by Blackhawk helicopters.
Copyright AP - Associated Press