A SkyWest Airlines flight from Chicago's O'Hare International Airport to Cedar Rapids made an emergency landing Monday morning after smoke was seen in the cabin.
SkyWest Flight 2936, operating as American Eagle, was diverted to DuPage Airport after reports of smoke in the cockpit, the airline confirmed Monday.
"The flight landed safely and passengers deplaned normally," the airline said in a statement. "Mechanics will inspect the aircraft and we are working to help passengers resume their travels as quickly as possible."
Video from the plane was posted to social media, showing smoke in the cabin.
[[420902083, C]]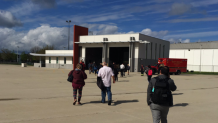 The flight landed at DuPage Airport in West Chicago just before 10 a.m.
No injuries were reported.
Check back for details on this developing story.