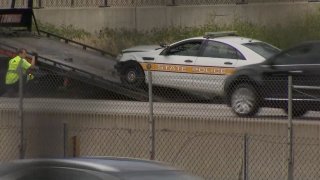 An Amber Alert issued late Monday evening after a 15-year-old girl was believed to be kidnapped in Dolton has been canceled, according to authorities.
Dolton authorities reported the teen kidnapped around 2:42 p.m. Monday by someone wearing a mask and driving a black 2005 Ford 500 sedan with the license plate DG20425.
Illinois State police said Dolton officers were pursuing the vehicle on northbound Interstate 94 at West 87th Street in Cook County just before 3 p.m.
The driver sideswiped another vehicle and pushed that vehicle into the side of a squad car before continuing to flee from the scene of the crash. The trooper inside that squad car was hospitalized with non-life-threatening injuries, authorities said.
An Amber Alert, requested by the Dolton Police Department, wasn't issued until just after 11 p.m. Monday.
At 3:32 a.m. Tuesday, the alert was canceled, saying the teen "was recovered safely," the bulletin said.
Further details were not immediately available.