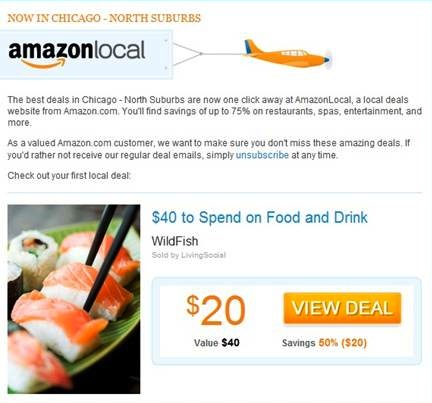 Even though Groupon is losing money while revenue is climbing, that isn't stopping its competitors from pressing forward full steam ahead. On Thursday, Amazon sent out a release announcing the arrival of AmazonLocal -- a "local deals marketplace offering customers up to 75 percent savings on everything from restaurants to spas and events" -- in Chicago and the suburbs around it. There's a dedicated site for the area already, located here.
AmazonLocal has been around since June 2011, and this marks the online merchant's first appearance in our backyard. Amazon's statement has a vanilla comment from spokesperson Michele Glisson, which, surprise surprise, demonstrates the company's enthusiasm for doing business in Chicago: " We look forward to bringing customers in Chicago's northern suburbs the best the region has to offer – amazing deals from outstanding local businesses."
It's still new to us, but one of the slickest things about it seems to be that you can earn points on an Amazon Visa card for every dollar spent at AmazonLocal. That's an interesting way of keeping things in the family, but, again, the biggest pitfall for these services is there's no real reason to stay loyal. That's the nature of clipping coupons and sniffing out deals: You don't care who's offering what, you just want the best deal possible.
And, again, if you're a merchant thinking of running a deal, do yourself a favor and read my interview with City Treasurer Stephanie D. Neely on that very topic.
David Wolinsky is a freelance writer and a lifelong Chicagoan. In addition to currently serving as an interviewer-writer for Adult Swim, he's also a columnist for EGM. He was the Chicago city editor for The Onion A.V. Club where he provided in-depth daily coverage of this city's bustling arts/entertainment scene for half a decade. When not playing video games for work he's thinking of dashing out to Chicago Diner, Pizano's, or Yummy Yummy. His first career aspirations were to be a game-show host.