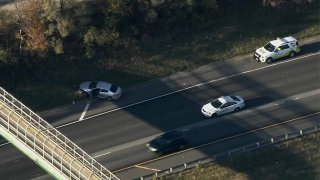 All lanes of I-57 southbound near 111th Street reopened Friday evening following a nearly four-hour long closure as a result of a shooting and crash, according to Illinois State Police.
The incident occurred at approximately 3:37 p.m., and all southbound lanes were shutdown as a result. The lanes were reopened at 7:40 p.m.
One person sustained non-life threatening injuries in the incident, but it wasn't clear if the individual was injured by gunfire, state police said.
Additional details about what led up to the shooting or crash haven't been released.