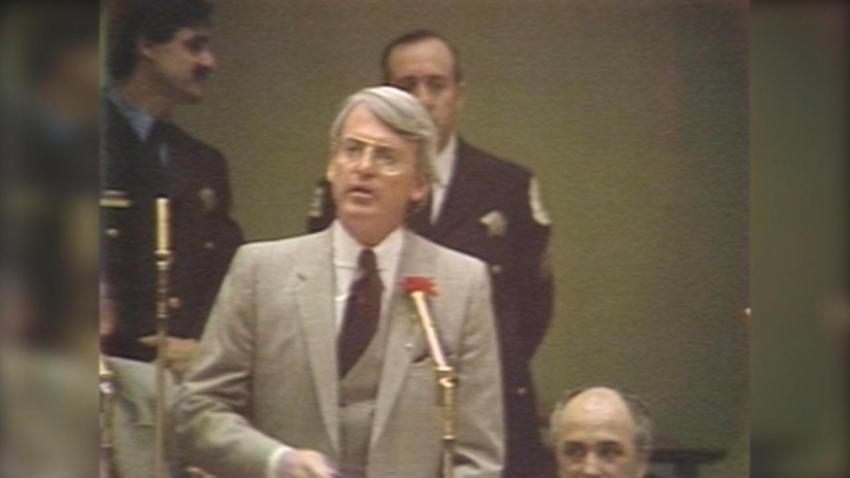 Ed Burke's first vote on the floor of the Chicago City Council was to allow television cameras into the second-floor chamber to record city business. Since then few Chicago politicians have used the medium to their advantage as Burke.

The powerful alderman has now been charged with attempted extortion for "corruptly soliciting business" for his law firm, according to a federal complaint unsealed Thursday.
A political legacy, Burke followed in his father's footsteps representing the Southwest Side ward. According to a YouTube video in which Burke speaks of his political history, he was sworn into office March 14, 1969, by City Clerk John Marcin.
Burke's father, Joe Burke, had held the seat since 1953. In a special election, Ed Burke had six opponents and received 11,290 votes, winning over his closest competitor, he said, by a 10-to-1 margin.
Prior to his election Burke was a Chicago police officer, graduating from the police academy in 1965. He attended law school, a classmate of Richard M. Daley.
In May 1968 he married his wife Anne, and two months later she, along with Eunice Kennedy Shriver, began the Chicago Special Olympics.
Of his wife he said in the video, "From the very beginning, my wife Anne has been the great spirit and soul of my political life in whatever success we have achieved."
Anne Burke is currently an associate justice on the Illinois Supreme Court, appointed in 2006 and winning 10-year terms in 2008 and 2018.
Among Ed Burke's political memories is the first time he met Richard J. Daley. He was 10 at the time, he said, and met the mayor at the St. Patrick's Day parade. The biggest thrill was riding home in the fire chief's vehicle ringing the bell.
He has served in the City Council with eight mayors and more than 250 aldermen.
"It is no exaggeration to say that since my election in 1969 I have occupied a front row seat to view Chicago history," he said in the video. "Like it or not the good, the bad, the ugly."
Now the long-time politician who views himself as a student of history finds himself answering federal charges in a most uncomfortable seat.
"Nothing is written in stone, especially in politics," he said in the video. "It has been said to know the truth of history is to realize it's ultimate myth and it's inevitably ambiguity."