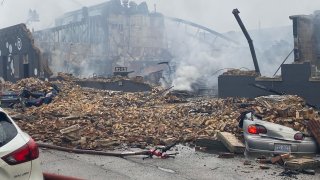 A large, extra-alarm fire in Chicago's Albany Park neighborhood destroyed two popular businesses Monday morning, collapsing a roof and walls as fire officials say what's left of the structure could soon come down.
Bricks came crashing down on the sidewalks and street, smashing cars that were parked in the area as a blaze tore through the Twisted Hippo Brewery and Ultimate Ninjas gym, along with a nearby apartment building in the Northwest Side neighborhood.
The fire burned for hours before being put out around 9 a.m., despite firefighters still battling some hot spots in the following hours.
First District Chief Thomas Carbonneau said firefighters were not entering the buildings Monday as the structures were at risk of further collapse, with the front wall of the commercial building still standing.
"If you had a side angle you could see that the wall was bowed out already so that's the danger," he said.
Fire officials said the fire broke out around 3:30 a.m. in the 4300 block of North Richmond.
The Chicago Fire Department's office of media affairs said at least one person, a man in his 60s, was taken to Swedish Covenant Hospital in critical condition due to smoke inhalation.
Roughly 150 firefighters were called to the scene.
The cause of the fire and which building the flames started in were not immediately known.
Carbonneau said an investigation was underway to determine where the fire was sparked and how.
Authorities at the scene said when firefighters arrived, the fire was on the second and third floor of an apartment building in the area. Nearby buildings were also in flames.
Ultimate Ninjas, which has several locations across the Chicago area, had planned to hold a number of President's Day camps for children, according to their website.
Marilee Rutherford, the owner of the Twisted Hippo, said she first learned about a blaze near her business when she received a call from her building's owner.
"We were not on fire up to this point. I had a strange thought we could save something," she said. "But clearly that's not going to happen."
Although a cause remained uncertain Monday afternoon, neighbors said they first saw flames in a three-story residential building.
NBC 5 Investigates has learned that there have been 37 code violations at the address alone. The owner has been assessed more than $13,000 in fines and fees, according to Chicago's Department of Buildings.
As questions about what happened loom, neighbors have started fundraisers - hoping the affected businesses will bounce back soon.
"They're not just business owners," said Illinois Rep. Jaime Andrade, Jr. "They are members of the community. They live down the block. The community is devastated."