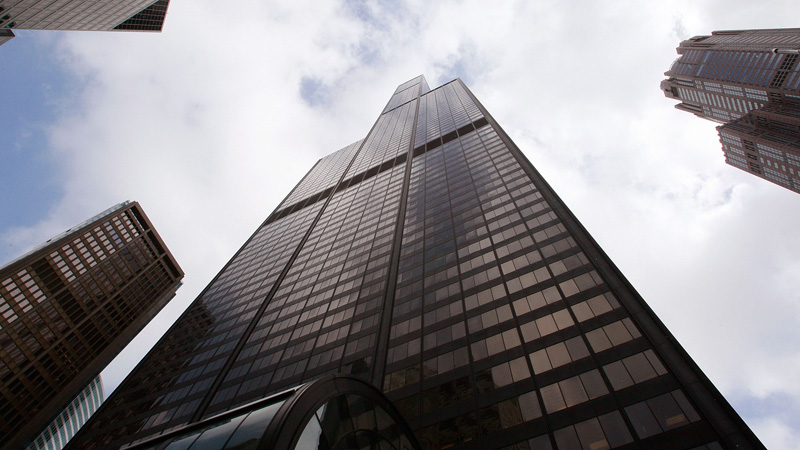 In what would be the union of corporate Chicago, United Airlines is said to be in discussions with the owners of the building formerly known as Sears Tower, Willis Tower, about moving the airline's operation center from Elk Grove Village to about 450,000 square feet in the famous skyscraper.
Chicagoans who might tend towards sentimentality, thinking "Our United Airlines. Our Wills Tower," rest assured, it's all about the mighty dollar. United stands to save a bundle by unloading the 1 million square foot space it holds near O'Hare Airport while collecting tax incentives from the city.
Saying that "discussions are ongoing," Molly Sullivan, spokeswoman for Chicago's department of community development, said in the Trib. "City officials are talking to the airline about offering a tax-increment financing (TIF) subsidy."
She was quick to say that the deal had not been finalized.
"We know that United is looking at various locations," Crains Chicago Business quotes the spokeswoman as saying. "We're trying to be a competitive contender."
United owns its 66.5-acre Elk Grove Township center, and there's speculation that it could sell or lease the property to raise cash, the Chicago Tribune reports.
Perhaps airline executives could just set up shop along the moving walkway at the United Terminal at O'Hare. That would save some money, wouldn't it? On the otherhand, the continuous reminder to "Please look down," may distract them during this difficult recovery time when the airline is hoping things are looking up.
In fact, UAL received a nearly $5.5 million in TIF funding — and a $10-million rebate over five years on the jet fuel tax — for a 2006 move from the same northwest suburban location to another downtown office tower, 77 W. Wacker Drive, where it employs about 650 people.
The Elk Grove location has about 2,800 employees. Things could get crowded around the moving walkway.
But Crains explains that a deal between Willis Group Holdings, the London-based insurer that won the naming rights for Sears Tower last spring, and United is "complicated by United's weakened financial condition, which leaves it without spare cash to pay for the move after much of its reserves were eaten up by huge losses last year."
"We continue to aggressively attack structural costs across the company," a top UAL executive, John Tague, told analysts Tuesday. On Thursday, Tague was promoted to president of United Airlines, from executive vice-president and chief operating officer.
So, how badly does Willis want the two to be united in a deal? Someone's going to have pay for the decorating.