Everyone needs advice from time to time, and Grizzly Detail is here to help.

Dear Grizzly,

I had an up-and-down week at work. Though I produced more yards than ever before for my company, I also made some pretty big mistakes. Now, everyone is focusing on the mistakes! What do I need to do to prove myself again?

The Barber of Soldier Field

Dear Barber,

Winning trust back isn't easy. The best way to do it is not with words, but with actions. Prove to your co-workers that you deserve their trust. Work hard, keep your nose to the grindstone, and for heaven's sake. Hold on to the ball in overtime.

Dear Grizzly,

I had the best job. I held a clipboard, wore a baseball hat, and would help my buddy with his job. It was great. Now, my buddy gets hurt, and everyone is expecting me to be just like him. I CAN ONLY BE ME, GRIZZLY. How can I just be myself? Isn't that enough?

No Longer No. 2

Dear No. 2,

A crisis of identity can truly throw a person. Just know that you're not alone in this. To work through it, spend some time reflecting on your best qualities, and the best qualities of your friend. Do you have any qualities in common? Besides a winning smile? Focus on those things, and then show everyone how you can do the job, but still stay true to yourself.

Grizzly is here to answer all of your questions. Tweet us, and we'll help you through this football season.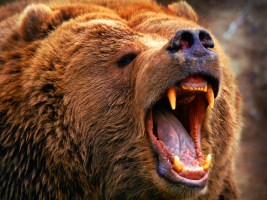 Check out Grizzly Detail: NBC Chicago's Bears blog features videos, photos, news, commentary and more. All the Grizzly Detail is right here.
Bear Down, Chicago.
Grizzly Detail on Twitter: @Grizzly_Detail

Copyright FREEL - NBC Local Media