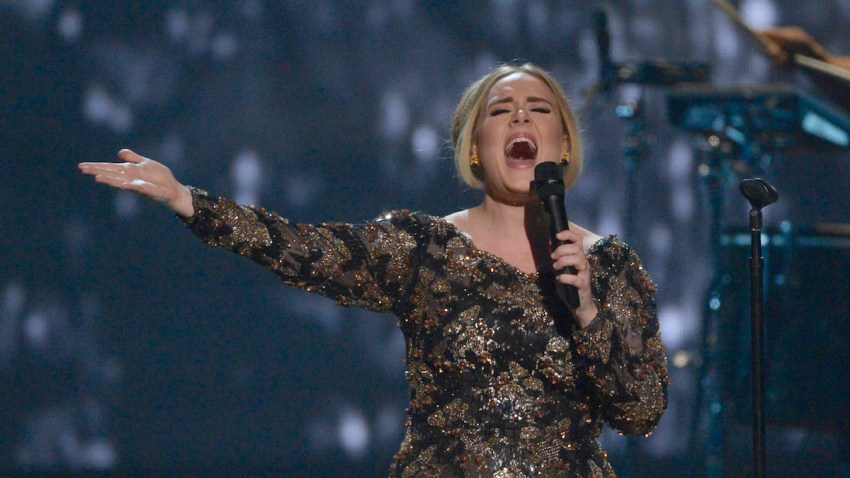 Adele is coming to a city near you
The 27-year-old "Hello" singer's record label announced Monday that she will return to North America for her first tour in five years. The first North American concert is scheduled for July 5 at the Xcel Energy Center in St. Paul, Minn.
Tickets go on sale Dec. 17 at 10 a.m. local time via her official website.
When Adele last went on tour in 2011, many concerts were canceled and postponed as she battled laryngitis, a chest infection and a vocal cord hemorrhage. The latter required surgery and eventually forced the "Skyfall" singer to cancel 16 of her shows in the U.S. and the U.K.
The Grammy winner told Rolling Stone in early November that she was giving herself until Christmas to decide whether to hit the road again. "When I've sat down and thought, 'What can I do to bring something new to the table?' It was just like, 'Tour.' Because I haven't done it properly." Still, the threat of more throat issues looms large. "If my throat goes, then I'll never be able to do a tour again," she said. "I'll be able to get my throat fixed again and do studio work, but do I want to do something and then fail at it and be too scared to ever try it again?"
Adele recently played her first full concert in over four years at Radio City Music Hall in New York City. The performance, "Adele Live in New York City," will air tonight on NBC at 10 p.m. ET.
Here are Adele's North American tour dates for 2016:
July 5 St. Paul, MN Xcel Energy Center
July 6 St. Paul, MN Xcel Energy Center
July 10 Chicago, IL United Center
July 11 Chicago, IL United Center
July 13 Chicago, IL United Center
July 16 Denver, CO Pepsi Center
July 17 Denver, CO Pepsi Center
July 20 Vancouver, BC Pepsi Live at Rogers Arena
July 21 Vancouver, BC Pepsi Live at Rogers Arena
July 25 Seattle, WA KeyArena
July 26 Seattle, WA KeyArena
July 30 San Jose, CA SAP Center at San Jose
July 31 San Jose, CA SAP Center at San Jose
Aug. 2 Oakland, CA Oracle Arena
Aug. 5 Los Angeles, CA Staples Center
Aug. 6 Los Angeles, CA Staples Center
Aug. 9 Los Angeles, CA Staples Center
Aug. 10 Los Angeles, CA Staples Center
Aug. 12 Los Angeles, CA Staples Center
Aug. 13 Los Angeles, CA Staples Center
Aug. 16 Phoenix, AZ Talking Stick Resort Arena
Aug. 17 Phoenix, AZ Talking Stick Resort Arena
Sept. 6 Auburn Hills, MI The Palace of Auburn Hills
Sept. 7 Auburn Hills, MI The Palace of Auburn Hills
Sept. 9 Philadelphia, PA Wells Fargo Center
Sept. 10 Philadelphia, PA Wells Fargo Center
Sept. 14 Boston, MA TD Garden
Sept. 15 Boston, MA TD Garden
Sept. 19 New York, NY Madison Square Garden
Sept. 20 New York, NY Madison Square Garden
Sept. 22 New York, NY Madison Square Garden
Sept. 23 New York, NY Madison Square Garden
Sept. 25 New York, NY Madison Square Garden
Sept. 26 New York, NY Madison Square Garden
Sept. 30 Montreal, QC Bell Centre
Oct. 1 Montreal, QC Bell Centre
Oct. 3 Toronto, ON Air Canada Centre
Oct. 4 Toronto, ON Air Canada Centre
Oct. 6 Toronto, ON Air Canada Centre
Oct. 7 Toronto, ON Air Canada Centre
Oct. 10 Washington, DC Verizon Center
Oct. 11 Washington, DC Verizon Center
Oct. 15 Nashville, TN Bridgestone Arena
Oct. 16 Nashville, TN Bridgestone Arena
Oct. 25 Miami, FL American Airlines Arena
Oct. 26 Miami, FL American Airlines Arena
Oct. 28 Atlanta, GA Philips Arena
Oct. 29 Atlanta, GA Philips Arena
Nov. 1 Dallas, TX American Airlines Center
Nov. 2 Dallas, TX American Airlines Center
Nov. 4 Austin, TX Frank Erwin Center
Nov. 5 Austin, TX Frank Erwin Center
Nov. 8 Houston, TX Toyota Center
Nov. 9 Houston, TX Toyota Center
Nov. 14 Mexico City, DF Palacio de los Deportes
Nov. 15 Mexico City, DF Palacio de los Deportes