Camiella Williams was a teenager when people she knew and loved began to die in Chicago's gun violence — by last count, 30 friends, relatives and now students at a suburban school where she works, she says.
Starkesia Reed, the 14-year-old sister of a friend, was struck in the eye as she got ready for school. Siretha White, another friend's sister, was shot in the head at a party for her 11th birthday. Then there was Williams' 15-year-old cousin, Porshe Foster, hit in the back in a backyard.
A decade later, Williams, 28, has become an activist trying to keep young people safe — and she wants to make sure none of those who were killed are forgotten.
Williams was profiled two weeks ago by The Trace, a non-profit news organization dedicated to expanding coverage of guns in the United States.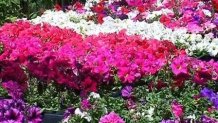 She went from a troubled child with her own guns to working at an alternative high school in a suburb south of Chicago, showing students ways to avoid violence. She serves on a violence prevention task force for U.S. Rep. Robin Kelly of Chicago and is in a graduate program in political and justice studies at Governor's State University,
"I'm just an outraged, concerned citizen," she said. "I've been affected so much I can't turn it on or turn it off. It's something that I do every day all day."
A memorial that she and about 15 other young people started at St. Sabina Academy, which she attended, has quadrupled in size. Photographs of more than 160 victims are on display— plus there are hundreds of other pictures in a file cabinet waiting to be laminated and mounted.
Other photos appear on a Facebook album she created called "Lost but not forgotten."
"I'm like, 'Hey, hey what about my cousin, what about my friends, what about the other faces in Chicago that people are not paying attention to?'" she said.
The Chicago Tribune, which has been tracking the violence, reported that there were 470 homicides in 2015 in Chicago. More than 2,900 people were shot.
Chicago had the most homicides of all U.S. cities in 2015, its worst year since 2012, when about 500 people were killed.
You can read the rest of Williams' story here.