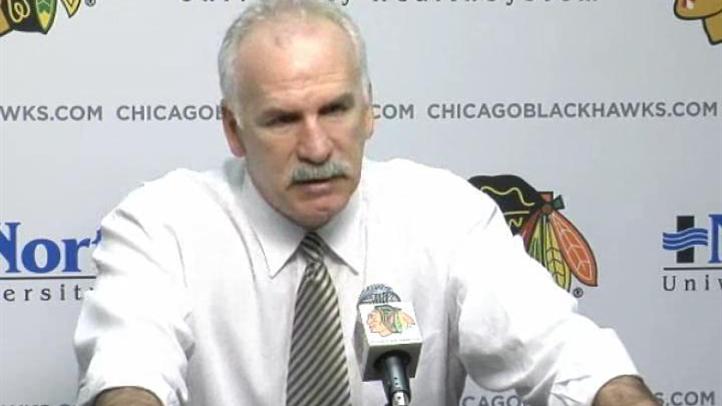 Few reporters could wait to show the steam marks on their shirts from the substance shooting out of Joel Quenneville's ears after Saturday's night's tie with Colorado (the Avs went on to win the gimmick at the end).

Q was Vesuvius due to some defensive breakdowns the Hawks had, and nothing grinds the gears of a former NHL d-man like that. Thought it might be fun to focus on them. The big one is obviously Gabriel Landeskog's tying goal with less than two to go. Luckily, almost everyone on the ice is to blame.
Here's the video:
So much to diagram here. A lot of fans want to blame Duncan Keith, because that's been the soup du jour for about a year now. But he might be the most blameless on the ice. Keith has every right to chase the puck carrier in Daniel Winnik as he cuts across the middle of the neutral zone. Once he does, his partner Nick Leddy has to read that and move back toward the middle. Sure, Ryan O'Reilly is standing there as well, but Keith can have them both covered as O'Reilly is standing still.
But we're not finished. You'll see Andrew Brunette also moving towards the boards and O'Reilly. This is not his job. As first forward back, his duty is to cover the middle of the ice, to block such a pass that found Landeskog. However, this wouldn't a problem if Viktor Stalberg hadn't watched Landeskog skate right by him from the Avs blue line like someone watching a bus they know they won't catch. Stals has the speed to keep up with the rookie, and should have. Jonathan Toews is also coasting a bit through the neutral zone, but there was little he could do. That's how you get a tying goal in the end of the game. In soccer it would be called ball-watching. We'll call it puck watching.
There other goals weren't pretty. Steve Montador got outmuscled by Landeskog in the crease, that can't happen. David Jones's goal was a result of Brent Seabrook not quite getting tight enough to the post to prevent the puck coming out from behind there after a turnover by Niklas Hjalmarsson.
I guess we know what they'll be working on in practice today.
Buy this book! Ward Room blogger Edward McClelland's book, Young Mr. Obama: Chicago and the Making of a Black President , is available Amazon. Young Mr. Obama includes reporting on President Obama's earliest days in the Windy City, covering how a presumptuous young man transformed himself into presidential material. Buy it now!