Homelessness among families with children is often an invisible crisis, but it's a growing reality.
Some families may not be living in the streets. In many cases, they're likely doubling up with other family members, couch surfing, or temporarily living in hotels as a means of survival, according to the Chicago Coalition for the Homeless.
That is the case for Alejandro and Alejandra Romero. For the past three years, the couple and their three children - ages 4, 7 and 10 - have been living in a hotel. 
"It's hard," said Alejandro Romero. "I had an accident in my job, waiting for surgery, so I have nothing coming in income."
Romero was the sole bread winner of his family. Once he lost his job due to an accident in 2020, he says the family could no longer afford to live in their home in the Back of the Yards neighborhood. For the past three years, their church has helped them cover the costs of their stay at a hotel in a neighboring suburb.
Through all of this, the Romero children have never missed a day of class, according to Gerardo Arriaga, principal at Tonti Elementary School.
The children are three of 34 students identified to be homeless at the school, through the Chicago Public Schools program called "Students in Temporary Living Situations" or STLS. The program ensures students who do not have permanent housing, attend schoool and stay on track, while receving critical help, according to CPS.
"Immediately, once they enroll, we have uniforms that we provide for these families," said Claudia Mason, the STLS liason at Tonti Elementary School. "We also give them a backpack full of supplies, make sure that they have a hygiene kit and any basic necessities, as well as connect them with other services."
Mason has been at Tonti Elementary for five years and has noticed a growing number of families joining the program.
"When I first started, we had about 15 students," Mason said. "Now, we are at about 34... so in those five years, I've seen it double."
The numbers vary by school, but CPS reports that, as of December 2022, there were 12,933 students identified as homeless through the STLS program. The Chicago Coalition for the homeless says those numbers are much higher now.
"Of those students in Chicago, 16,000 are living doubled up," said Alysa Phillips, an education attorney with the Chicago Coalition for the Homeless. "They're not in a shelter, they're not staying on the street... they often don't get counted and they are not eligible for public services."
The Romero family is one of those families. Fortunately, they were brave enough to ask for help at their children's school, and that's how they're receiving some support. However, many families are hesitant to come forward.
"It's an uncomfortable conversation the teachers might have with parents, but it's just a matter of awareness and letting parents know if they need support, we have it," said Mason.
Due to the increase in students signed up for the STLS program, Tonti Elementary School staff created what they call a Care Closet. A former office transformed into a room to store donations they receive from local organizations with different basic need items.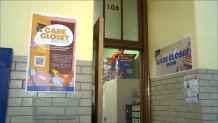 "This is actually the first year that it's actually a room," Mason said, adding that not all of the students benefiting from the closet are STLS students.
"We even have a food pantry here on Saturdays. People line up to pick up what they need, thanks to the Chicago Food Depository," said Arriaga.
The Chicago Coalition for the Homeless says school districts across the state are doing critical work, but that alone won't solve the bigger issue.
"I think schools do a lot but there's a lot more that could be done, "said Phillips. "We need affordable housing... there's not enough of that."