While it's always a cliche to say there are no moral victories, and the result is all that matters, the NHL season is far too long to get wrapped up in that entirely. There are some nights where the team is bad. There are some nights when they're not and they just lose a game. While we saw the former in Alberta last weekend, Wednesday in San Jose was the latter.
The Hawks recommitted to a defensive focus, especially on the road against perhaps the conference's leading power. And they pretty much nullified them for the entire 60 minutes without Brent Seabrook. The only blemish was a power play goal that took a wicked deflection which pretty much rendered Corey Crawford helpless. After that, Crawford didn't have a big save to make. Come to think of it, he didn't have a big save to make before that either.
The Hawks smothered the Sharks in the defensive zone. They blocked shooting lanes, won races to loose pucks and most important played clean when trying to exit. This had been the major issue all season. When teams put the Hawks defense under pressure while trying to break out, passes and pucks were missed, and all of a sudden the Hawks were a puck possession team that didn't possess the puck all that much. It's not a recipe for success.
Wednesday night, the Hawks were tape-to-tape and up the other way. They didn't leave the zone early. They didn't shirk taking a check to make a play. When there was a rebound, there were only white shirts around to claim it. They didn't give up their blue line as easily as they had been, which meant the Sharks had to dump the puck in and the Hawks pretty easily retrieved it.
Yes, they still lost. Their offense, though mustering 34 shots, didn't provide too much of a challenge for Antti Niemi. But lack of scoring is not something Hawks fans have to worry about being a long-term plague for this team. If they match that defensive effort or even come close for the rest of the season, the Hawks will be in the board room for the private discussion of who gets top of the West.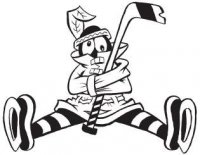 Sam Fels is the proprietor of The Committed Indian, an unofficial program for the Blackhawks. You may have seen him hocking the magazine outside the United Center at Gate 3. The program is also available for purchase online. Fels is a lifelong 'Hawks fan and he also writes for Second City Hockey .